October 10, 2016
Rachel Librach
     Along with being an interesting decoration, memorials serve a symbolic purpose to remember an event, person or piece of history.
     At UCCS, there are multiple memorials that honor important historical events and student cultures across campus. The Scribe put together a review of just a few memorials that can be seen around UCCS.
9/11 memorial
     The 9/11 memorial was constructed in honor of the 10-year anniversary of the Sept. 11 terrorist attack on the World Trade Center.
     A four-person team of engineering students designed the memorial in June 2011 after UCCS collected a piece of the World Trade Center. The memorial was unveiled on Sept. 12, 2011 in front of the College of Engineering and Applied Science.
     The student design team and designers of the display collaborated with the engineering department and other members of the UCCS community in the memorial's creation.
     The display is meant to serve as a reminder of 9/11 and communicate to viewers that this day not only had devastating effects in the U.S., but global repercussions.
     In addition, the memorial is a representation of the American spirit and how we were able to persevere through adversity, according to the memorial description.
Military student mosaic
     The military student mosaic monument is another commemorative memorial on campus. The memorial, located outside of University Center by Café 65, honors military members and veterans' service. The painting was dedicated on Nov.11, 2014, on Veteran's Day.
     According to the monument's plaque, students and community volunteers designed and created the mosaic art piece. The three panels portray the transitioning process out of the military into the academic environment.
     The Student Veteran Organization's motto, "We're not done yet!" is at the core of this monument. The motto is meant to illustrate how UCCS student veterans stay loyal to one another and work toward the improvement of the communities in which they live.
Eos sculptures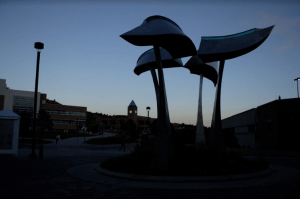 Another memorial on campus is the bright metal Eos sculptures outside of Columbine Hall. This memorial was commissioned for UCCS by the State Public Art Program, which is overseen by the Colorado Council on the Arts.
     The dedication plaque explains how the Greek goddess of the dawn, Eos, brings the glimmer of day to men. Eos emerges from the ocean each day and soars across the sky on her winged horse, Pegasus, to announce her brother, Helios (the sun), to the world.
     The memorial's four metal statues that capture and reflect Helios' rays are representative of Eos and her husband Astraeus' (the starry night) children, or the four winds: Boreas (the north wind), Eurus (the east wind), Notus (the south wind) and Zephyrus (the west wind).
     Next time you pass these memorials on campus, take a look at them; don't just walk by.