Marcelle Stuckey was captured by Nazis during World War II because of her connection with the French Resistance; she then escaped and was able to tell her story. 
She is also my great-grandmother, and she is an inspiration to me.
She and my great-grandfather, Andrew Stuckey, lived with my family from when I was 8-13 years old. They both suffered from Alzheimer's. She specifically had short-term memory loss and would share her life story with my brother and I repeatedly. We soaked up everything she said and would act as if it were our first time hearing these stories as she sat in her favorite chair.
My great-grandmother was born in 1921. Her real father ran out on her family when she was really young, and her mother remarried. The man she remarried was an abusive alcoholic. Her mother, on the other hand, was an amazing mother and person, according to my great-grandmother.
Her mother passed away when she was 12. My great-grandmother was forced to leave school to work in a factory as a result. She became a mother figure to her four brothers and one sister since her stepfather was abusive.
Years later, after finally escaping the grip of her evil stepfather, Nazi Germany took over France, including her hometown of Vesoul. 
German soldiers arrested her brother, Abel Hergel, sometime during February 1943, and two days later they came for her too when she was just 21 years old. They were both imprisoned inside the Citadel near the town of Besançon.
The siblings were placed in separate cells and were never allowed to see each other. Her brother was arrested and accused of being a member of the Forces Françaises de l'Intérieur (FFI). She was arrested because the Nazis knew that she had provided the FFI with the address of the man who had denounced her brother.
The informant was a Polish emigrant Nazi sympathizer who lived in France. The FFI man who she had given the address to was arrested two days after her. She did not share the name of the FFI man when the soldiers questioned her; she tried to save her brother.
"They proceeded to beat me severely and pull my hair. With a special Baton, they hit me all over my body and paid special attention to my breasts and the soles of my feet," Marcelle Stuckey said in a note detailing the experience. "Following the interrogation, they brought in the FFI man who I had given the address and placed the note in front of me. They knew I had lied. I fainted and they dragged me back to my cell."
Two days later, they took her to a place where they really hurt the French prisoners; they returned her to that room for a beating almost every day.
The walls of this room were filled with messages by prisoners. Marcelle Stuckey wrote two of these messages, because she thought the end was near and she wanted her family to know where she had died.
Today, the Citadel of Besançon is a tourist attraction with several museums, and her messages are still on those walls for visitors to see.
After several months of imprisonment, the interrogators tried to trick her by taking her out of her cell and informing her that a friend would take her back to her hometown — she did not recognize the man. The guy purchased two train tickets to Vesoul.
"He tried to make me believe that he was a member of the FFI, but I knew it was not true," Marcelle Stuckey said.
She planned to escape in Vesoul, using her knowledge of a popular local café. She asked the man to buy her coffee and said she would use the restroom. The shop was located on a triangular shaped corner with two exits — a door on each street. She ran to the home of her former employer, since he and his wife were involved in the FFI. They cut her hair, gave her glasses and an identity card with a false name.
She lived in an attic in the French town Nancy for a while and then went home to her family — everyone, except her brother Abel Hergel, was there. The Germans had sent him to a concentration camp and killed him. 
She didn't speak to her family about what had happened to her, because "it was so unbelievable." 
     After the war, she met my great grandfather, a United States soldier in France. He also wrote about his experiences in his book, "Of a Black American Born."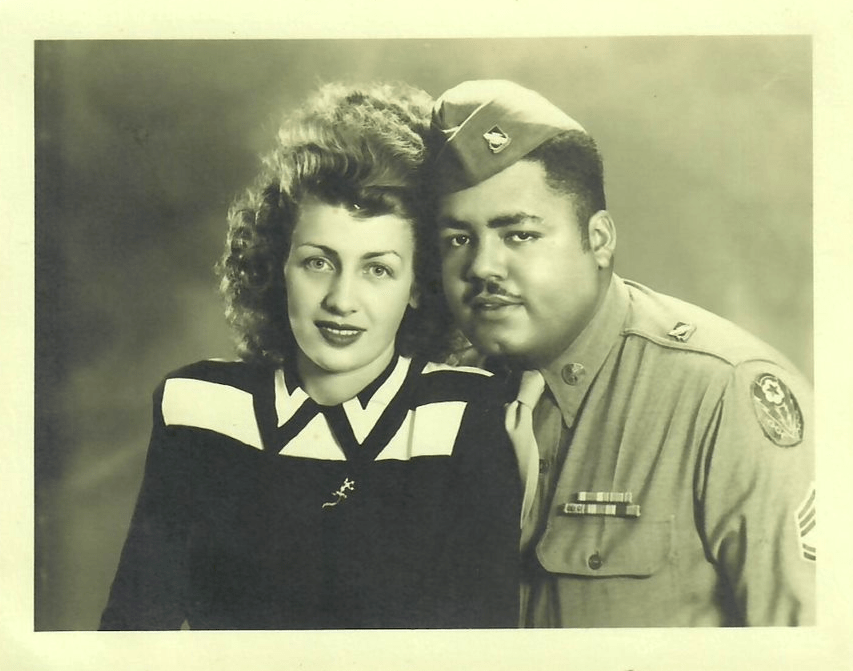 They had three children together, and they ended up raising my mother, who was their grandchild.
My great grandmother is a hero of mine. Her work with the FFI during her country's occupation was heroic. And after facing near certain death, she spent the rest of her life caring for others and being selfless.
I remember her always being nervous about me and my siblings getting hurt or being cold. I was not allowed to leave her sight if I was visiting her home. She wanted us to be safe and happy.
She passed away in 2015 after her husband passed away in 2012.
     Her story is an important reminder to count our blessings and to give before we receive. She made her mark in history and made the world a better place.