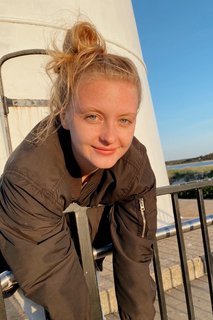 Annika is a senior and biomedical science major at UCCS! She is one of the Co-Editor-in-Chiefs for The Scribe and has worked in student journalism since high school. Annika started as a reporter for the Scribe before the fall 2019 semester and has since fallen in love with the organization and student journalism.   
Between studying chemistry and writing articles, Annika can be found on the beach! This may seem odd, considering Colorado is a land-locked state, but Annika has been staying at her family's home on Martha's Vineyard for the duration of the pandemic. If she is not working on the beach as a ranger, she is swimming or SUP-ing in the ocean! When she is in Colorado, you can find Annika at a downtown coffee shop, at the movies or in the mountains. 
Annika also loves travelling. Living in Germany for two years during high school, travelling to Costa Rica to study sea turtles for a summer, and spending two months in Zambia following her high school graduation have all assisted in shaping the person she has become today. After COVID-19 has been managed, Annika plans to visit Morocco to further experience the diverse African culture. 
Annika is optimistic about the coming school year, despite the pandemic, and is excited about another great year of student journalism!