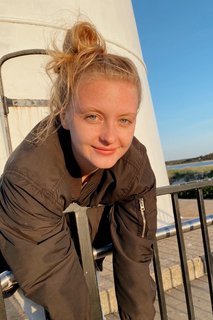 Note: This is an archived page. Annika graduated from UCCS in December 2022.
Annika Schmidt is a senior biology major and media studies minor at UCCS. She has been with The Scribe since 2019. Since that time, Annika's undeniable passion for journalism and amplifying student voices has grown tremendously. After working for the organization at multiple levels — now editor in chief since May 2021 — she intends to extend this pure enthusiasm into a career in the field. Until her graduation in December 2022, Annika hopes to continue on her personal journey with journalism at The Scribe, but also inspire the voices of other young writers and students. 
Annika is originally from the east coast, and has lived in New York, Virginia, Massachusetts and Germany before coming to Colorado for university. Her biggest adventure has taken her to Zambia as a fresh high school graduate to volunteer at a wildlife sanctuary for chimpanzees; one of her heroes is Dame Jane Goodall. When she isn't in The Scribe office dreaming up the next big step for The Scribe or initiating some light shenanigans, Annika can be found building something historically accurate out of Lego, skiing at Breckenridge, watching the Oscar nominees or swimming in the nearest body of water — ideally an ocean! Oh, and her two fluff babies are cats named Mookie and Picasso.