22 October 2019
Derek Lee
After finishing No. 6 and No. 9 in their respective conferences last season, the men's and women's basketball teams look to start off stronger during their home openers next month.
Both teams started off slow, going 1-3 to start last season. The men bounced back to finish 17-12 overall while the women finished just below .500 with a 13-15 overall record.
"Last year was a tricky year," said men's head coach Jeff Culver. "We had some injuries and we actually finished the season wondering how we won 17 games with everything we went through. We could have finished anywhere from second to seventh, that's how tight the conference was.
"Last year we were pretty young, which we are again this year," said women's head coach Lynn Plett. "But on top of that, last year we had a lot of players that had some injuries at crucial times. That kind of hurt. I think we were just really inconsistent."
Seniors Blend Avdili and Padiet Wang, and sophomore DaRaun Clarke will be key starters this season according to Culver. He believes that redshirt senior Ed Bourke and redshirt junior Geoff Kelly will have an impact as well.
"Ed started a majority of the games as well, so we expect that core to really lead us through the year. Geoff Kelly's had some injuries these last couple of years, but he's finally healthy. He's one of our returning leaders. We expect him to also provide that foundation of leadership for our squad this year."
Madi Gabler, Chelsea Pearson and Caley Barnard — all seniors — are players that Plett will rely on because of their maturity and experience.
Plett said that junior Abby Feickert should have a positive impact as well.
"She was one of our top scorers and really made a lot of things happen on the offensive and defensive end last year," said Plett. "She missed the second half of the whole conference so that kind of hurt us, but she's back and healthy this year."
"We have three guards in particular," said Plett. "Desiree Pierson, Makenna Baker and Eliza De Vera. One of those players if not more will be on the floor most of the time this year even as freshmen because all three have point guard experience. They're all quick players. We're trying to play a little bit more aggressively on defense this year."
The men's team also features a large class of freshman and newcomers — the largest in program history. Parker Gaddis, in particular, is one such newcomer who Culver hopes will be a strong asset this year.
"Parker Gaddis has stepped in as sort of a starting point guard role if we had a game tomorrow," said Culver. "It's a tough position to transition into especially for a transfer, but I think he's done a really good job of being solid and blending in with that group of returners I mentioned."
Both coaches mentioned Colorado School of Mines as a team that will be a tough competitor whenever they face off against the Mountain Lions.
"They've done a great job," said Culver. "They've got the longest playoff appearances streak in our conference and they've got a solid system."
"We're always aiming for the top of our league, said Culver. "We feel like that's a realistic goal for us every year and so that doesn't change for us for this year."
"I think the main thing is to be more consistent," said Plett. "Last year we were pretty inconsistent. Part of that because of injuries and part of that just because of the way we played. We weren't as consistent as we want to (be)."
The men's season will start on Nov. 4 against Colorado College in a home exhibition game. Conference play will begin for them on Nov. 30 against Colorado School of Mines.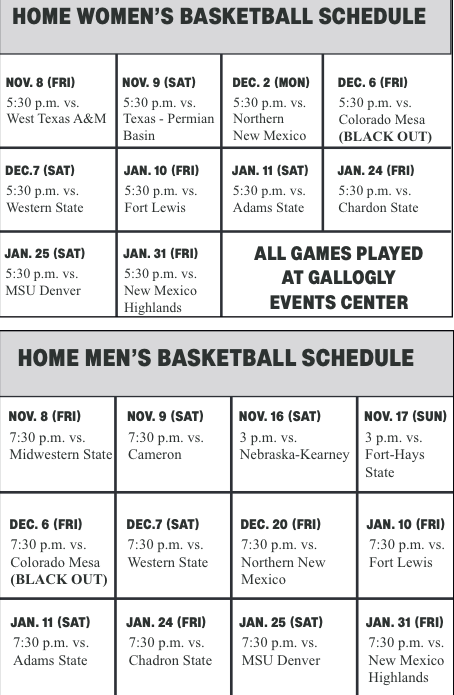 The women's season will start on Oct. 27 against University of New Mexico in an exhibition game. RMAC play will begin for them on Dec. 6 against Colorado Mesa. The women's first home game is a non-conference matchup against West Texas A&M at 5:30 p.m. on Nov. 8.