Oct. 5, 2015
DeKeveion Glaspie, Alexander Nedd
[email protected], [email protected]
There is no worse feeling than being stuck in class while hungry. Obtaining a degree would be hard without being on campus, so here's a look at where students can find the best places to eat at school.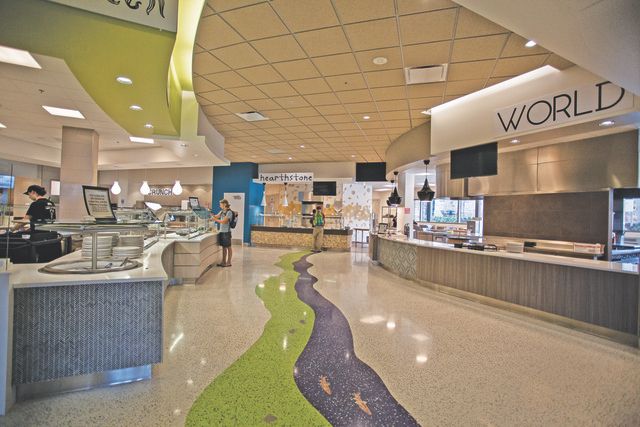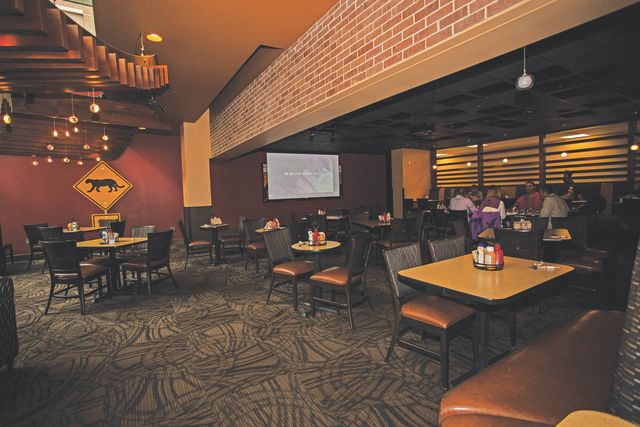 Megan Lunsford | The Scribe
UCCS offers a variety of options to refuel during the day. Below are places you can go to order meals that won't always break your budget.
Roaring Fork
Students living in Alpine Valley can cut their travels short by having their meals at Roaring Fork. The new cafeteria is spacious with open windows that give students a view of Pikes Peak.
Roaring Fork features a dish rack that doesn't have an awful smell. Popular food items served daily in this cafeteria are fresh pizza with various toppings and real ice cream.
Although Roaring Fork is a decent eating facility so far, there are some downfalls. Instead of whole burgers like those served at the Lodge, there are sliders. Multiple trips have led some to believe that the sliders always come out burnt.
The Lodge
For those students who live in Summit Village, The Lodge is a convenient place to grab a meal after long classes or working out.
The Lodge is different since the change from Sodexo last year, but not by much. It's the same food but with a less potent smell.
A favorite food from The Lodge is the fries, which you can now purchase more quickly, thanks to less wait times than previous years, mostly due to the creation of Roaring Fork.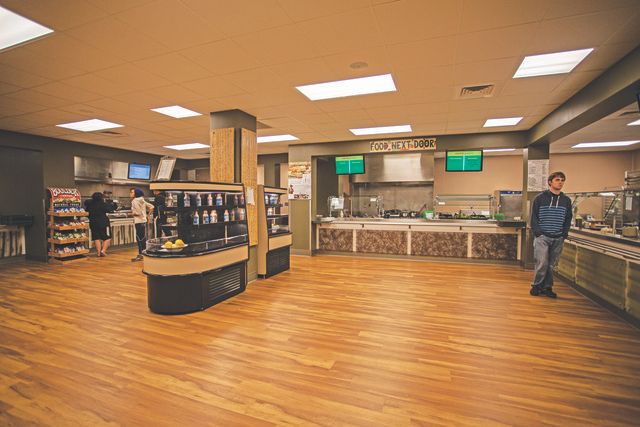 Café '65 is not worth a visit, unless you need food in a hurry.
One popular food item, chicken tenders and fries, were unusually distasteful. The fries were soggy and had an unappealing look, while the chicken tenders tasted like they were cooked in burnt oil.
On the positive side, the staff did provide great service and offered to help choose other meals. One employee suggested the pizza. There was only a wait time of four minutes, perfect for people looking to get in and get out.
If you want a meal to get you through your breaks between classes, stop by Café '65. You could never go wrong with a salad or a slice of pizza. But if you want great food, look elsewhere.
Clyde's
The ultimate eatery on campus is housed on the first floor of University Center and features alcohol and a sports pub feel. What makes Clyde's attractive is its ability to not stand out on campus, but fade back into the university and detach from the college vibe, giving the restaurant a separate identity.
As with any food at UCCS, Clyde's at times feels overpriced for what you are paying for, but still offers a decent meal without the need to travel. The fall menu has been updated with new additions including a Beer Board, which allows you to sample a number of selections for $4.
Clyde's appeals to a wide majority of students on campus with options that are gluten and dairy free, as well as vegan and vegetarian options.
Personal favorites include the wings and Smoked Gouda Cheeseburger. Do yourself a favor and add the bacon for an additional 80 cents.