Sept. 21, 2015
Jonathan Toman
[email protected]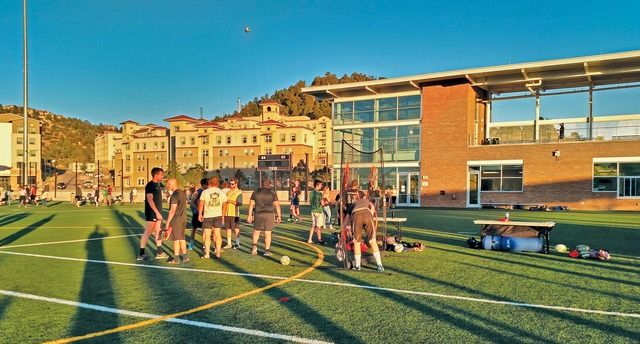 UCCS club sports hosted their first-ever kickoff event Sept. 16 as part of their continued efforts to market to students not involved in club sports.
Held at Alpine Field, the event featured clubs showcasing their sports, along with music from UCCS Radio, food courtesy of SGA and team scrimmages.
Mallory Barger, manager of Competitive Sports and Youth Programs, sees the continued growth of the club sports program as key to their ability to host an event like the kickoff.
"The clubs that we do have are even more well-organized and well-established," she said. "We feel like we're getting our ducks in a row and we want to share that with everyone."
Barger, who is entering her fourth year with Campus Recreation, said there were only seven active club sports when she started, compared to the 16 now. The club sports that were present functioned very independently, she added.
"Now people are buying into the club sports program," she said. "We're seeing stronger student officers leading clubs and really dialing in their leadership skills to make their club thrive."
Senior economics major Conner Curtis serves as president of the inline hockey club team, and explained the challenges the program has faced, despite the team winning a national championship in 2013.
"We've been successful, but not many people know about us," he said.
That began to change when Barger arrived, Curtis said.
"(Club sports was) run OK, but there wasn't a lot going on," he said. "She got us to the point where we can put together events like (the kickoff), which is awesome."
"We don't get a lot of recognition, the goal is to get all the sports recognition and get some folks out to the
games."
Junior sport management major Mack Buckley is the inline hockey vice president.
"As a transfer student, I was told this is a commuter school. If you get word out to one person, they can pass it on and it could be a huge impact," Buckley said.
"To have this collaborative event, it's about time."
Buckley, Curtis and freshman undecided major Chase Stealey all spoke about the challenge of recruiting new players, even at the kickoff, where most of the participants were those involved in a club sport.
"From a freshman's perspective, I wouldn't have known about this unless I was on the team," said Stealey, who plays on the club baseball team.
"Most students, if you ask them (about club sports), they don't hardly know," said Buckley.
Barger said that based on Mountain Lion Connect, 534 students are involved in club sports, though not all of those are active members.
The idea for the kickoff event came out of spring club sports association meetings, where club sport officers expressed their need for marketing support.
"We really wanted it to be not just club sports people," Barger said. "Whether you want to play or not, it's about 'let's have fun together.'"
"I just love seeing everything going on, you can try whatever sport and people are out here having fun, that's what it's about," said Buckley.
To view club sports teams and their schedules, visit Mountain Lion Connect via the Student Life and Leadership website.