The Mountain Lion Swimming Club has been rebuilt and is now competing in two swim meets this semester. Club leadership is working to ensure the club will be successful in the long term.
The original swimming club was founded between 2014 and 2016. However, the pandemic and inconsistent practice caused the original club to dissolve.
Club president Kimber Scifres, vice president Maddy Neider and treasurer Montana Gottman began working almost a year ago to get the club running again.
"We've been working on it for almost a year," Gottman said. "We worked all summer to get ready for this semester to like, be successful and have swim meets."
When the previous president left, Scifres was the vice president of the club and Gottman was the treasurer. They had no training and needed a third person to reboot the club.
Scifres recruited Neider, a good friend of hers. They then got to work, rebuilding everything from the ground up.
The club's leadership credited Bill Moorman, manager of sports and youth programs at UCCS, as being a huge help to get them started. Moorman meets with club sports once a month and assists in the construction of the club by offering advice to ensure the club's success.
Club sports at UCCS are required to write a constitution and create their own bylaws. The swimming club's constitution still needs more work, according to Scifres.
"[The constitution] needs to be loved on a lot more," she said. "We needed a constitution. So, we just took things from other clubs, and things that we personally saw with the [last] club that did and didn't work. We were like 'well we need to make sure that we can do this and get it all together and just submit it.'"
Besides the constitution, the swimming club also needed board approval from SGA to receive funding for their club needs. This requires submitting their budget proposal, waiting for a review and presenting to SGA.
Despite nerves over the whole situation, which was new for each of the club leaders, they received everything they asked for in the maximum amount for the year.
The club must still submit a travel form to receive the money for their specific needs in their meets.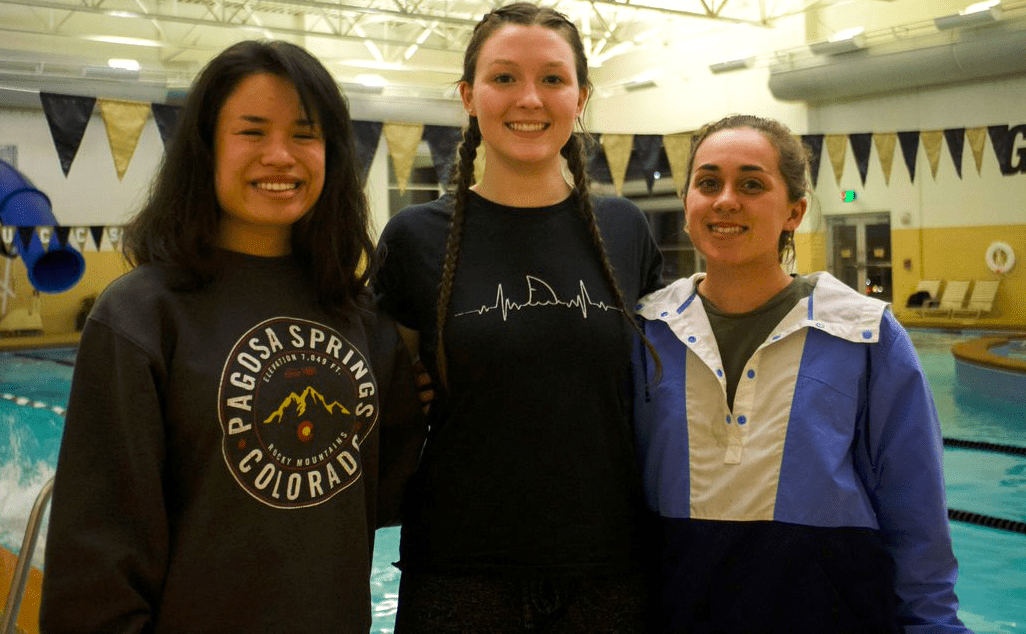 "They just give us the money, and they are like this amount can only go to travel," Scifres said. "We got a lot more for competitions, and little bit for travel. Luckily most of ours are in Colorado, so we don't have to pay for air travel and hotels for the most part, which is really nice.
We still have to make sure that we don't go over the limit, and if we do go over the limit, we have to take the money from the dues and apply it to that to make sure that we can still afford everything."
Membership fees for the club are divided into two categories: competitive and associative. Competitive members are required to pay $100 per semester while associative members are required to pay $15 per semester.
Their meets this semester were on Oct. 23 and Nov. 12. One swimmer qualified
for nationals after the first meet.
"It was a little crazy since this was a new atmosphere to everyone who went. What's even better is that we already had a swimmer qualify for nationals already and there are three more who are super close to qualify," Scifres said.
There are around 20-30 people in the club, 13 who are competing and 10 who competed in the first match. Around this time last year there was only three members after the previous president left.
The swim club welcomes everyone: from beginners to experienced swimmers.
"It's a safe environment — and like if people are scared to start learning how to swim, then they can actually dive and like start with the basics," Neider said.
They know that one bad apple can ruin an experience for everyone involved. That is why their goal is to create something that is fun, positive and stress free.
They also learned from the mistakes of the previous club when it comes to consistency by setting a practice schedule. Practices used to be canceled or added at the last minute. Also, changes to practice times were sometimes inconvenient, and placed in the middle of the day during classes for some club members.
The swimming club now has six practices a week: Monday through Thursday at 7:30 p.m. with a double on Friday that includes a water slide at the evening practice.
Wednesday is their dry land practice. Scifres said, "It's where you get to see us fail." She joked, "The funniest thing that I ever saw for swimming was, 'swimmers are like turtles; in water fast, but on land, it's just not gonna happen."'
To learn more about the Mountain Lions Swimming Club, see their Mountain Lions Connect page or their Instagram.