February 25, 2020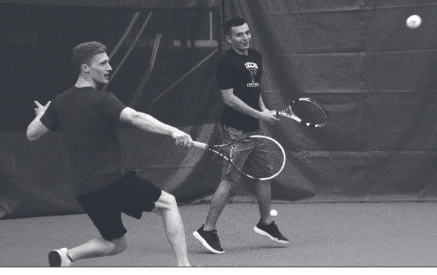 The UCCS Club Tennis team was founded 10 years ago and has grown to include 36 members in the club this year.
Club president Danielle Morin loves that UCCS Club Tennis offers students the ability to have fun and make friends.
"Serving one year as vice-president and now two years as president, I have accomplished my goal of expanding the club to a more competitive group with plenty of opportunity for competition around the country," said Morin via email.
UCCS Club Tennis hosted a tournament in September with 28 teams from around the US competing. Morin hopes that this tournament can become an annual event.
The club competes in year-round tournaments against other club teams in states such as Arizona, Nebraska, North Carolina and Wisconsin. They also compete in tournaments all around Colorado. Morin is not the only member who can take credit for club tennis's growth and success.
Vice-president Lindsey Davidson, treasurer Mark Macapagal and club officer Tristen Van De Veer are three people that Morin credits for helping lead the club to success as well.
A few of the current club officers are either graduating or transitioning out of leadership in the next year.
Morin said the future looks bright because "the incoming officers have big plans for the club and seek to carry on the legacy."
The goal of the club is to give UCCS students the ability to play tennis competitively, since UCCS has no tennis courts on campus and does not have an NCAA tennis team.
UCCS Club Tennis has advocated for a tennis court on campus. They practice at public courts around Colorado Springs. During the winter season, they practice on the indoor courts at Lifetime Fitness. Morin, along with the other club officers, believes the club should be rewarded an on-campus tennis court. She said that a previous member and her served on the Recreation Advisory Board and Morin believes the Campus Recreation department is considering putting courts on top of the Alpine Parking Garage and Field.
Morin said UCCS Club Tennis attracts members because of the social and competitive aspect of the club. People join the club to meet people that share the passion for tennis and get to compete in lots of competitions.
"It's a great way to make friends and feel connected," said Morin.