September 12, 2016
Anne Stewart
     Black or with room for cream? Pour-over or blended? Extra hot or over ice? At 6 a.m. or for that 2 p.m. pick-me-up? There are countless ways to take your coffee that meet the needs of your personal preference.
     There are also many different places to search for your favorite coffee spot around Colorado Springs.
     If you are looking to venture off-campus for your morning cup of Joe, or for that first of the season's pumpkin spice lattes, you might want to give one of these local shops a try.
     Every place was highly enjoyable, and the service at each coffee shop was amazing, whether it was at the Coffee Exchange where the barista recommended honey and cinnamon for the Zombie Latte, or at Loyal Coffee where the young men working talked about their goals for their cafe.
     Each shop showed me something different than what you might see at a Starbucks or another big chain; these baristas care about the craft of coffee and the quality of which they served it to their guests. This speaks of a desire for growth of community, and not just business.
     So get out there, college students. Try something new. Support local coffee shops.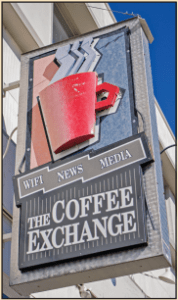 The Coffee Exchange
     I was an un-caffeinated zombie when I walked into The Coffee Exchange at 7 a.m. That was also the name of the shop's specialty drink: The Zombie, a latte made from white espresso, topped with honey and a little cinnamon, costing $4.32.
     This sweet, light drink, along with friendly service and a welcoming atmosphere made for a great experience. They also use Fair Trade Coffee from Barista Espresso, a local company, which is always a positive.
     I would have brought my homework and made a day of it if I didn't have to run to class. The shop is a great place for students to catch up on homework or see some live music on Friday nights.
Loyal Coffee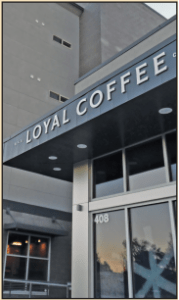 This is a brand new coffee house, which opened Sept. 12. The employees were friendly and helpful when I went in to order a cappuccino which cost $3.79. The milk was fluffy, and the espresso had a good balance between sharp and smoky.
     This shop roasts their own coffee, which always adds a nice, personal touch. The scene was city sleek to match the neighborhood in which it is located.
     Barista owned and operated, this spot is one that delivers a good product and for a good reason: the people there love what they do.
     With plenty of space, tables and booths, students will want to come to this light and open setting just to hang out or for a study-session with friends.
Fifty-Fifty Coffee House
     This one was a favorite of mine for a couple of reasons. I had never heard of this coffee shop before, but when I went in I was immediately intrigued.
     With the entrance's huge windows and white walls, I felt like I was somewhere other than Colorado Springs. The shop reminded me of a mix between here and Denver. The building, built in the early 1900s, was once a community market.
     Almost every seat was full of young people, presumably students. Everyone had textbooks, notebooks and laptops and were set for the afternoon with their java fix. The coffee house had a selection of teas, which they get from a local business in Old Colorado City. I suggest all tea-lovers out there give the iced White Coconut Cream Tea a try.
     This company's coffee roaster, Switchback, is right next door. It is highly recommended that you take a trip to try your next drip coffee here.