Feb. 8, 2016
Abbie Stillman
[email protected]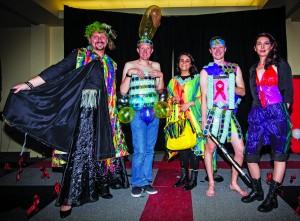 Raising awareness about sexual health education might be easier when creatively executed.
MOSAIC, in coordination with the Wellness Center and the Southern Colorado AIDS Project, hosted the Condom Fashion Show on Feb. 5.
"We wanted to find a more engaging and exciting way of presenting that information other than just talking to people about it," said Brian Garris, a graduate student studying student affairs in higher education, who is also the co-facilitator of the event.
Five student teams presented their designs at the event. Each team came up with a message about the sexual health significance of their creation to present before the models showed off their design.
"Teams were given 600 multi-colored condoms each and they just have to make outfits out of these condoms," said Garris.
Jesse Perez, program director of the LGBT Resource Center, said their main goal was to provide information about safe sex and prevention.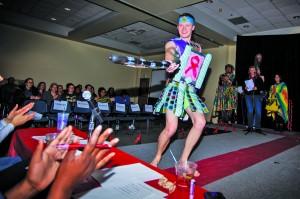 "Our goal is also to break away from HIV/AIDS being a gay issue, it's something that impacts so many people," he said.
Perez said students need to be able to talk about sex, condoms and sexually transmitted diseases.
"It is really important for everyone to be educated on these issues," said Perez.
Judges at the event critiqued the best design, with one of the criteria being which spread the best sexual health message. Aesthetics and creativity were also judged. Results of the competition were not available at press time.