UCCS has begun vaccinating members of the campus community at the Wellness Center. 562 people were vaccinated during the first round of vaccinations administered at UCCS on March 30.
Assistant Vice Chancellor for Health and Wellness Stephanie Hanenberg said, "We completed over 560 vaccines in 4 hours, but could have managed 1,000. Our current clinics are capped at 100 people since we have less staffing throughout the week to help manage them."
Hanenberg also shared that second doses will be administered on April 27.
"Anyone that was in phase 1b.4 or a prior phase was eligible and invited to participate," Hanenberg said.
An email sent to UCCS staff and students on April 9 advised that students schedule their vaccination appointments soon to avoid overlap with finals week and move-out.
Hanenberg shared what the vaccination process looks like. "Individuals need to sign up for an appointment so that we can manage the flow, ensure we have enough vaccines prepared, and maintain social distancing," she said.
"We had to prioritize housing students that needed the vaccine first since the window to get the series completed before they travel is small, but we will be moving on to commuter students starting next week," Hanenberg said.
An appointment sign up option can be expected on the Recreation and Wellness Center website in the near future. "Individuals should watch for emails with links to register and monitor the Wellness Center site starting next week that will have links to upcoming clinics," Hanenberg said.
Last week, seven people tested positive for COVID-19 at the Wellness Center. Those positive tests were returned after 19 rapid antigen tests and 57 PCR tests were performed during the week of April 1-8.
     Dating back to the fall semester, a total of 338 UCCS students have tested positive for the virus, including students not on campus who reported their diagnosis to UCCS.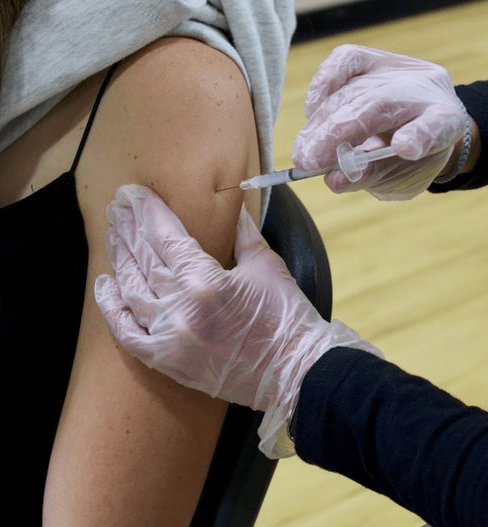 Weekly random surveillance testing will continue to be conducted on students living in residence halls and offered to commuter students coming to campus. Daily health checks still required for students on or coming to campus and can be completed through the Attestation Form found here.
Large scale POD's are held in the Recreation Center gyms and smaller scale clinics are being held inside the Wellness Center.
Faculty and staff can schedule drive-up testing appointments which are available Monday through Wednesday from 11:30 a.m.-12:30 p.m. outside of the north entrance of the Lane Center.
Hanenberg shared the future of UCCS returning to in person activities depends on the vaccines. "The hope is that if we can get to 70 percent herd immunity, we will be able to have some return to safer in person activities, classes, etc. in the fall."
Hanenberg continued, "If we believe we have reached herd immunity, I am comfortable with the return to in-person based on public health guidance at that time."
According to Hanenberg, this means that people will need to get vaccinated anyway, because if we don't reach that level of herd immunity, there is a good possibility that the pandemic will continue longer than we want.
"We also need to closely monitor variants and the effectiveness of vaccines to avoid going backwards with our numbers, as well as monitoring how long the vaccine will provide protection. Given all of that, my hope is that we are able to return to more in person in the fall, but only time will tell," Hanenberg said.
As of April 8, 182,523 people were immunized with one dose and 118, 263 people have completed their vaccination series in El Paso County. According to El Paso County Public Health, there are 1,000 vaccines provided per day.
Hanenberg shared that there are other vaccination options outside of campus. "We are also encouraging individuals who want other options to pursue some of the community vaccination clinics," she said.
These clinics can be found on the El Paso County Public Health website. Appointments can be made at Kaiser Permanente, King Soopers and Walgreens. Vaccination events are also held at the Broadmoor World Arena, which can be scheduled by calling 720-263-5737.