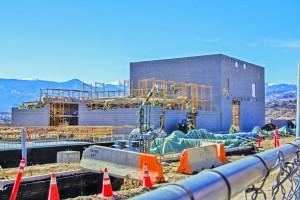 Feb. 29, 2016
Rachel Librach
[email protected]
The completion of the Ent Center is going to mean big change for the performing arts at UCCS.
The building, which will be almost 92,000 square feet, is under construction next to Lot 576 and is projected to finish in January 2018.
Gary Reynolds, associate vice chancellor for Campus Planning and Facilities Management, said the state of Colorado will provide $27,575,032 of the $70 million required to build the Ent Center.
The rest of the money will come from donations, bonding and internal funds.
Reynolds explained that the ENT Center will house both the visual and performing arts departments.
Many programs within these departments will be relocated to the new building, including GOCA, the Dusty Loo Bon Vivant Theatre, dance and music programs, Theatreworks and the Osborne Academic Theater of Contemporary Art.
Theatreworks usher and criminal justice major Angelica Oliver is looking forward to the relocation of the theater department.
"I think (the move to the Ent Center) is really awesome because right now we are kind of in a small space and kind of all over the place and not really centered toward Theatreworks," said Oliver.
"(The Ent Center) looks huge from the pictures, which leaves a lot of opportunity for a bigger theater, more space overall," she said.
Reynolds added that there are conversations with outside groups such as the Colorado Springs Children's Chorale and Youth Symphony to allow them to perform in the new facility.