Kaylan Hardin
From supporting students in the residence halls to serving as senator of innovation for the Student Government Association (SGA), senior and digital filmmaking major Stephanie Moyer has now viewed the UCCS campus and community through many different lenses. Recently appointed as the student director of finance, Moyer is prepared to take on a new role in SGA.
After working as a Resident Assistant (RA) on campus, Moyer discovered a passion for the campus community and student involvement, and was encouraged by former student body president JayJay Porcadilla to join SGA back in 2019. His words of encouragement enabled Moyer to continue serving as a resource to students even after being an RA.
Although Moyer got to see UCCS through an RA's perspective, she was surprised to learn just how much more the university has to offer. She compares all the inner workings at UCCS to "gears of a clock," where "each part is important in order for the whole thing to run."
"I thought I knew all there is to know about UCCS, but SGA gave me a look at the full foundation," she said.
This is now Moyer's second year in SGA; she joined in September 2019 as the senator of innovation.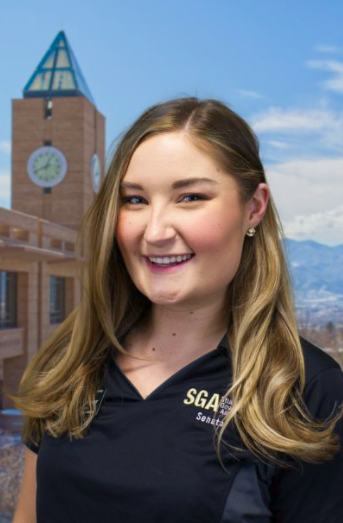 "Last semester I felt like I wanted to run for senator of innovation again, and I was going to run for speaker of the senate, but over the summer I heard that Kobe, who was initially going to be the director of finance, moved to Boulder," Moyer said.
Like many other students, especially seniors, the pandemic has altered Moyer's plans. She said her initial plan of graduating in December had a lot to do with the potential positions she would be running for. "I didn't want to take on a huge role if I wasn't going to be at UCCS for a full year."
Given the current climate on campus as a result of the pandemic, Moyer will now be graduating in May which, as she said, "allows [her] more time to serve while at UCCS." A position like student director of finance entails a full year of work.
"Directors work with the clubs on campus. Every day, I check the SGA-BAC [Budget Advisory Committee] email to see if anyone has any comments or concerns," she said. "Right now, a lot of people have been asking what the club funding looks like."
Moyer also arranges Zoom meetings with the clubs so they can propose bills for funding.
She works directly with clubs to find a plan that benefits them.
Moyer gave insight on what SGA has planned this year, saying, "Last year the senate voted a lot on bills for BAC recommendations, but after students reported that the BAC process was in need of changing due to its tedious structure, SGA heard the students and worked to make the process easier."
Last year, the process of proposing the BAC was broken up into two different meetings: the first when clubs propose their ideas, and the second when the clubs are informed of whether they will receive the money they are requesting. These meetings have now been combined into one.
According to Moyer, before COVID-19, a lot of clubs traveled or visited events hosted at other colleges. "Not a lot of clubs have applied for BAC — it's making many people rethink how to keep events going for their clubs at this time," Moyer said.
She shared what one of the first proposals looked like from the K-pop club on campus. "The K-pop club found a way to hand out K-pop CDs while social distancing off campus as a way to keep the love of K-pop and K-pop music going at this time"
When asked what plans she has while in this new position, Moyer shared, "Now that we are in a pandemic, there's a need for a connection. The senate has shifted their culture and is getting more involved with students. I've been working more with the clubs and making it known that students can still hold events, they can come to me and we can work on how to keep the events safe."