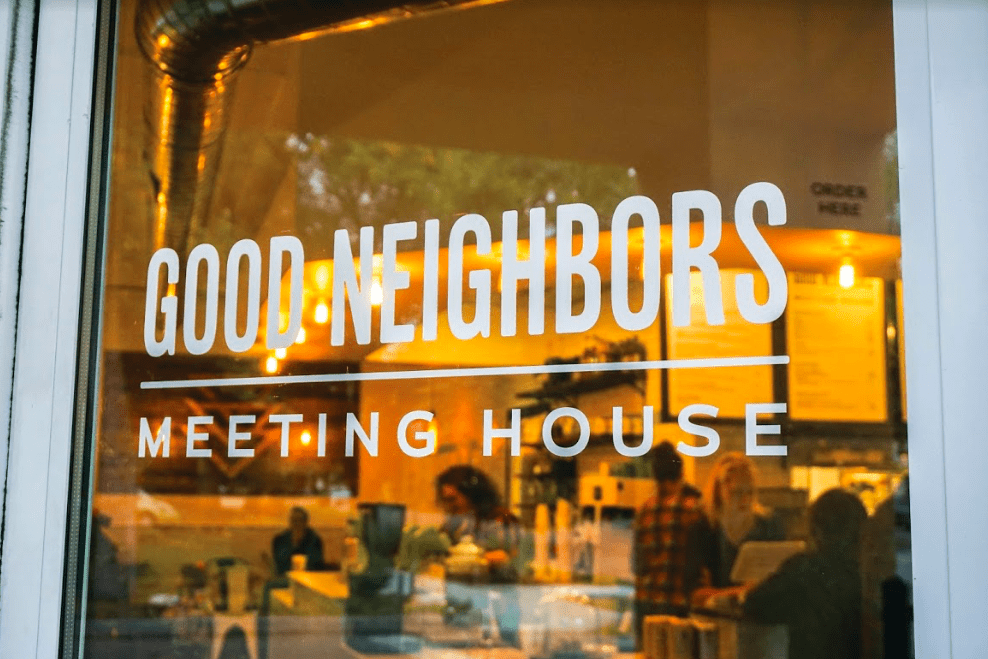 October 3, 2017
Elise Turner
Good Neighbors Meeting House
Location: 505 Columbia St.
Hours: Monday – Thursday 7 a.m. to 9 p.m.; Friday 7 a.m. to 10 p.m.; Saturday 8 a.m. to 10 p.m.; Sunday 8 a.m. to 9 p.m.
Rate:
     Situated in the quaint Patty Jewett neighborhood, Good Neighbors Meeting House is a refreshing change from the abundance of minimalist coffee shops in Colorado Springs.
   Russ Ware and Yemi Moboblade, owners of The Wild Goose Meeting House, opened the café on Sept. 1. But Good Neighbors is a far cry from the hip live-music and late-night atmosphere of the Wild Goose.
    The moment I entered the café, a young employee greeted me warmly. The Good Neighbors employees were attentive but also laid back.
    They brought my food promptly to where I was seated and cleared my dishes when I was through, but never interrupted my studies to check up on me.
    I wasn't sure how the server-barista dynamic would play out, but they seemed to favor taking an uninvolved approach.
    I was pleased by the amount of menu items. In addition to coffee drinks, Good Neighbors has an extensive food menu with lunch and breakfast foods, pastries and kids' meals.
    The breakfast menu includes a garden waffle served with green onions and avocado, breakfast tacos, and biscuits and gravy. For lunch, customers can enjoy items such as a basic grilled cheese sandwiches and a blackberry pecan salad.
    I ordered the Neighborhood Breakfast Plate ($9). It came with two eggs cooked over easy, crispy bacon, a cup of berries and heavily buttered toast.
    The classic breakfast plate was good, but $9 before tax for some eggs and toast is not exactly cheap for a struggling student who could get a Chick-fil-A chicken mini meal for $4.65.
   To compliment my breakfast, I enjoyed a latte ($3.50) topped with leaf art that demonstrated a fairly experienced barista. I wouldn't call myself a coffee connoisseur: to me, a latte's a latte.
    Good Neighbors is buzzing with a crowd of its own—families taking advantage of the friendly atmosphere and outdoor playground, friends getting together for Sunday brunch and students seated along the wall on their laptops.
    White subway tiles are the dominant décor at Good Neighbors. The fresh look is complemented with dark, wooden floors and metal chairs grouped in two's and four's. Pops of green appear in the chairs at the bar, the espresso machines and the cups for cold beverages.
   The tables are also arranged in a horseshoe shape that hug the bar and kitchen at the center of the shop.
  I initially picked up on a modern vibe and only noticed the vintage elements of the café after hearing the 60's music played softly over the speakers. I thought this cross-design was a more casual approach to a retro theme, and the old-fashioned elements were just enough to be charming and not tacky.
    Though "How Sweet It Is" by James Taylor played quietly in the background, the conversation at Good Neighbors was anything but hushed. People all over the coffee shop were chatting with their neighbors.
    Once I had been there long enough to get used to the chatter and clanking from the coffee bar, I could enjoy the meeting house for what it is: a place to socialize, not study.      
    My hands, cupped around a warm cup of coffee on a chilly fall day, was enough to make my first experience at Good Neighbors a pleasant one.
    The new café will quickly become my go-to place for an enjoyable lunch out with friends.