Mar. 7, 2016
Hannah Harvey
[email protected]
Of all the resources students have, it's a healthy mind and body that allow us to prosper the most.
The Recreation and Wellness Center offers group fitness classes for students in their two new studios.
They're worth your time and effort.
Participating in group fitness classes allows students to not only meet new people, but also find a new way to exercise.
You can find your interests and have fun. Group fitness classes can also serve as a less intimidating way for students to exercise more.
There's a class for everyone. If you like dancing, you can try zumba. If you want a high intensity workout, you can try bootcamp.
To participate in the classes, students have to buy a $20 fitness pass. Students aren't limited in the number of classes they are allowed to attend.
To me, that is definitely getting your money's worth.
I didn't feel that way until I decided to give one a try.
I went to zumba, a class that is held on Wednesday nights from 5:30-6:30 p.m. I used to dance as a kid, so I thought this would be a nice, familiar way to start.
The class was small in size, with about 10-15 people attending. There were only women in the class, but men do show up to zumba as well, according to instructor Jaime Threet.
"I think [group fitness] is a great opportunity because it's way cheaper than going to another gym. We're broke college kids; this is a really good way to stay active for cheap," said Threet.
Threet is a senior healthcare science major who is certified to teach both zumba and zumba gold, which is tailored for older men and women.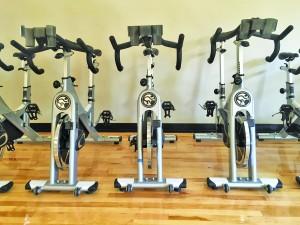 I was hesitant when I arrived, as I was the first one there along with two other girls who were eager to start the class. But once the class started, I became more comfortable and tried my best to replicate the instructor's moves.
The class that I attended was the largest that Threet has had so far. The class was energetic and high intensity throughout, which took my mind off of my lack of experience. There was not a judgmental atmosphere either; everyone was only focused on getting in their workout.
Threet was an enthusiastic and fun instructor who got everyone involved. For those who were unfamiliar with the class (like me), she tried to engage everyone to participate and made you feel comfortable if you had to modify a move.
"It's exercise in disguise, so you don't think you're working out," said Threet.
The experience of my classmates varied. There were some people who were regulars who come to class on a weekly basis, and others, like myself, that wanted to give it a try. You should, too.