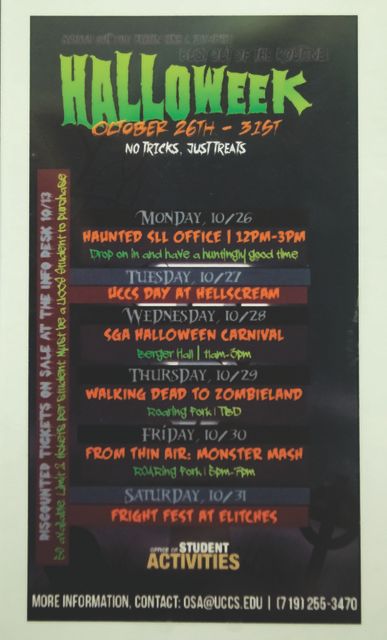 Oct. 26, 2015
Taylor Garcia
[email protected]
Lions, tigers and bears, oh my? It's a good thing Dorothy won't be at UCCS this week because the Office of Student Activities and the Student Government Association are all about ghosts, ghouls and zombies.
UCCS will be overrun this week with different hauntings, carnivals and spooky events, all in celebration and anticipation of Halloween.
HalloWeek kicks off with Haunted Office on Oct. 26 from noon to 3 p.m. in the Student Life and Leadership office. Some of the activities include henna tattoos, palm readings and pumpkin carving. For some students, stabbing a pumpkin after taking midterms might be cathartic.
Oct. 27 is UCCS day at HellScream Haunted House, with discounted tickets now available at HellScream.
On Oct. 28, SGA is hosting its second annual Halloween Carnival, featuring 25 club booths. Swing by Berger Hall from 11 a.m. to 3 p.m. for free candy and the chance to win a prize or two.
The Walking Dead will be on campus on Oct. 29 at 6 p.m. at Roaring Fork.
Makeup teams will transform students into "walkers" that will walk to Clyde's to watch "Zombieland," hosted by VAPA in partnership with OSA.
Prizes will be given for the best costume. There is also a chance to win a $100 gift certificate from Pens and Needles Custom Tattoos.
In case you miss the march but don't want to miss the movie, you will find the horde at Clyde's watching "Zombieland" at 7 p.m. The Haunted Hideout Dance, hosted by the Lindy Lions Swing Dance Club, is also the night of Oct. 29. The 1920s-themed dance will start with a themed photo booth from 7:00 to 7:45 p.m. The Lindy Lions will also teach you how to dance to Michael Jackson's "Thriller."
Continuing with the 1920s theme, Lindy Lions will teach the Basic East Coast Swing from 7:45 to 8:00 p.m. After that, you can show off your dances moves as DJ Swiveler plays some electro-swing beats until around 10 p.m.
Hop on your bike at 2 p.m. on Oct. 29 and ride around campus with SOLE for their third annual Halloween Bike Ride. Participants get to ride down to University Village to buy some lunch.
Wrapping up the week on Oct. 30 is From Thin Air: Monster Mash, a lip sync and air band contest at 5 p.m. in the multi-purpose room at Roaring Fork. Students can submit their own music beforehand to lip sync or air guitar or can wing it and pick from the list at the show.
The day of Halloween is Fright Fest at Elitches, with discounted tickets on sale at the Information Desk in the University Center.
For more information on HalloWeek, visit the UCCS Events Calendar or the students tab of the UCCS website.
HalloWeek Events
Oct. 26
Haunted Office
Noon to 3 p.m.
SLL Office
Oct. 27
UCCS Day at HellScream
Oct. 28
SGA Halloween Carnival
11 a.m. to 3 p.m.
Berger Hall
Oct. 29
Walking Dead to Zombieland
6 p.m.
Roaring Fork
(movie at 7 p.m. in Clyde's)
Oct. 30
From Thin Air:
Monster Mash
5 p.m.
Roaring Fork
Multipurpose Room