November 08, 2016
Ellie Colpitts
     There is no "I" in team, but there is a "try" in triathlon, which is exactly what the Recreation and Wellness Center is encouraging students to do this winter.
     Hosted by and held at the Rec Center was the first indoor triathlon on Nov. 5.
     Registration was open to both UCCS students and the surrounding community. Unlike traditional or sprint triathlons that feature a predetermined distance for each event, each contestant tried a timed portion of each exercise.
     Participants started with a 10-minute swim, then a 30-minute bike ride and finished with a 20-minute run, all with 10-minute transitions between.
     To determine the winners, the total distance each contestant traveled was recorded and prizes were awarded based on gender and age group as well as individual event success.
     Participants paid a $30 registration fee, received a t-shirt and were eligible to win an assortment of donated prizes based on finishing position.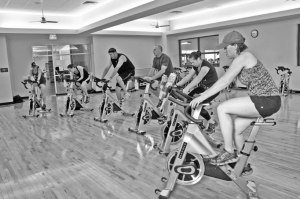 Prizes were donated by local company sponsors Pure Barre, Cycology and Borriello Brothers Pizza.
     The triathlon served as a promotion for an upcoming outdoor triathlon this spring, according to Brooke Freudenhammer, coordinator of Aquatics and Fitness. The spring event will resemble a traditional triathlon with set lengths.
     "This event is really cool because so much is left up to the individual; if they want to increase or decrease their resistance on the bike or incline on the run to where they're comfortable, that's fine," said Freudenhammer.
     Events like the triathlon create more programs and opportunities for students to be active, said Freudenhammer.
     The event was made to encourage people with varying levels of experience to enjoy themselves even in the colder months.
     "Everyone is at a different skill level, so this allows us to keep everyone together," said Freudenhammer.
     "We chose to have it during this time of year, because it's getting chilly outside. We wanted to give people a fitness option in November, because there aren't many locally."
     Previously, UCCS has held a Bash the Bluffs 5k run, which will still happen this year but will also represent the running portion of the triathlon.
     Freudenhammer hopes the indoor triathlon can be an annual event, using this year as a test run of timing and logistics and to attract larger crowds in the future.
     "We wanted to make this an event for everyone, whether they have experience or not, just to give them something new to try," said Freudenhammer.
     "You just do the best that you can for that time period. It's still a competition, but it's meant to be more of a fun competition; we just want to encourage people to get a workout in."