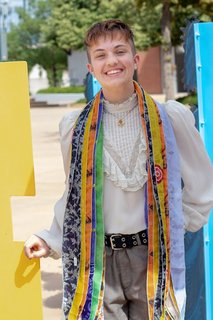 Isaac Werner is a first-year student at UCCS majoring in Political Science. This is their first year being involved with The Scribe as a reporter, and they're incredibly excited to be a part of a student journalism experience! Outside of UCCS, Isaac continues to write within the mediums of poetry and fictional works and is currently working on the second draft of a novel.
They do advocacy and community work in networking with the Colorado Youth Congress, lobbying at the State Capitol, and keeps up a steady hobby of making punk jackets. With COVID-19, they are trying their best to go with the flow of life, even if that means sending more emails than they have ever sent before.
You can find them at either @luv.prometheus on Instagram or at their website at yitzchakwerner.weebly.com.
They look forward to finding community and friendship at UCCS!