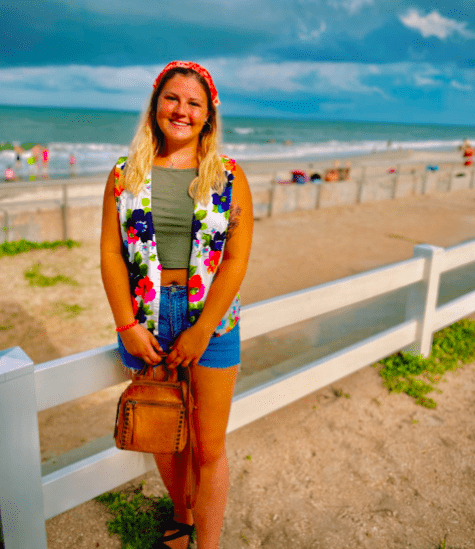 Note: This is an archived page. Jules graduated from UCCS in May 2022.
Julia Elbert, more commonly known as Jules, is a Senior at UCCS and is majoring in Secondary English Education. Jules is a reporter for The Scribe and will be graduating in May 2022. 
She is a transfer student who attended Chadron State College for two years and played softball and cheered at the college level. She is originally from Colorado Springs and attended Air Academy High School.
She enjoys writing poetry and creative stories and has been published in the 2020 and 2021 riverrun literary and arts journal at UCCS.
Jules hopes to teach at the high school level and eventually get her Masters in English Literature and her Ph.D. in Women's and Ethnic Studies, to then pursue teaching at the college level. She is involved in the UCCS Feminist club as well, and she hopes to join the Peace Corps and be an activist for social justice and women's rights in her community.
In her free time, Jules enjoys caving, hiking through the mountains, painting and writing poetry. She also is currently student teaching at the Middle and High School levels. Jules hopes to get the news across to the UCCS community and the Colorado Springs community through her writing and is excited to be a part of The Scribe