November 08, 2016
Audrey Jensen
     Before we had computers to help us with our assignments, students at UCCS had to use floppy disks and catalogues for their research papers.
     On Nov. 2, in the Kraemer Family Library, Sandy and Dorothy Kraemer came to celebrate the 20th anniversary of the library dedication with a display, cake and refreshments for guests who attended.
     Around 20 faculty members came to hear Sandy Kraemer, who is a UCCS donor and former CU Regent, speak about the changes he's seen over the years after Martin Garnar, dean of the library, introduced him.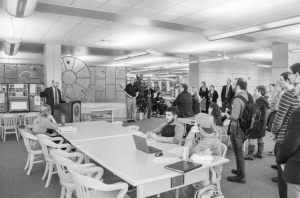 A trifold display also allowed guests to read the history of the Kraemer Family Library, which was dedicated on April 4, 1996.
     Garnar spoke on his experience working in libraries for the past 20 years.
     In '96, UCCS had 5,862 students and 276,944 volumes in the library. This year, 12,000 students attend classes at UCCS with access to 412,715 volumes in the campus library, according to Garnar.
     In '96, the library counted 264,738 patron visits compared to this year's 852,476 patron visits.
     Garnar mentioned that 20 years ago, the 16 staff members then wondered if they would ever get the web version of their catalog to work. They also had to teach students to use print indexes.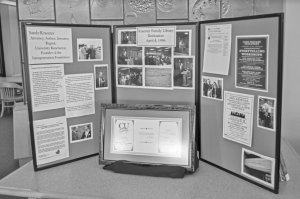 Another significant number Garnar mentioned was the number of library instruction sessions available to students 20 years ago, which was 87, compared to the 403 offered now. Library instruction classes teach students how to use materials and resources offered in the library and on their website.
     Sandy Kramer mentioned the improvements he's seen to the university over the last two decades.
     In some lots, lights did not exist and irrigation ditches on campus were a hazard to some students.
     He mentioned how privileged his family, including the Kraemer's four children and nine grandchildren are to know and watch UCCS grow.
     "May this campus grow bigger than Boulder," he said.