Jan. 25, 2016
Scribe Staff
[email protected]
Mountain Metropolitan Transit's proposal to no longer service the main campus of UCCS is a problem.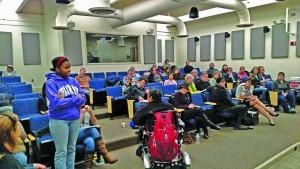 If the proposal continues as is, the closest a city bus will get to UCCS' main campus will be the parking lot by the in-construction Ent Center for the Arts near what used to be Four Diamonds.
This would negatively impact many students: those who have no car on campus to get anywhere in town, those who are from another country (or just another part of the U.S.) and want to explore Colorado Springs, and those who bike to school and rely on the bus if it rains or they have an equipment malfunction.
That doesn't even cover disabled students who rely on the bus to get to their classes and will be not only inconvenienced, but absolutely frustrated in their attempts to get to campus.
This proposal takes away a vital lifeline for our campus and community. The Scribe, like the university itself, cannot support it.
And it's hard not to take it personally.
The proposed changes to Route 15 in the southern part of Colorado Springs include an additional service to Pikes Peak Community College.
As part of the proposal, Mountain Metro is going out of its way to service one educational institution, and out of its way to remove proper service from another.
Colorado College essentially has the Metro system go through its campus, so there's no issue there. The only college in town left is the Air Force Academy, and that's almost in another time zone.
It could be nothing more than an awkward coincidence, but it sure seems that UCCS is the awkward stepchild of colleges in Colorado Springs that no one wants to deal with or pay attention to.
It was a small, yet vocal group of students that went to the public meeting that explained the changes in detail. Many of the comments came from students, and they were full of eloquence and passion in their arguments.
But there were only around 30 people there, and no more than 20 were students. Out of a campus of over 11,000, we mustered 20 students to hear about the future of public transportation on our campus.
Part of that is the difficulty in getting students of a commuter university to come to events on campus after 5 p.m. But that's another editorial.
This time, the issue was the announcement of such an impactful event to students.
True, an advertisement did show up on Mountain Lion Connect on Jan. 15, six days before the meeting.
True, the Commode Chronicles that was published Jan. 19 ran an advertisement.
But they had the wrong information.
The error was explained in an email sent to students from Parking and Transportation Services: "Pease note that advertisements in both Commode Chronicles and Mountain Lion Connect incorrectly state start time of 7:30 p.m. This meeting actually begins at 6:30 p.m. on Jan. 21."
This email was sent out to students less than 48 hours before the event. As the official form of communication for the university, email is the most likely medium students would check, and they barely had time to hear about the Mountain Metro meeting before it happened.
It is irrational for UCCS to expect students to attend these events and participate in the conversations when the information provided is incorrect and corrected too late.
That mistake could be anywhere along the line, but if the interests of students are a priority, the coordination must be better.