Whether queer or straight, trans or cis, pan or pot, Colorado Springs' new LGBTQIA+ bar "ICONS" is a must see.
For those of you who are a Colorado Springs queer history nerd like me, you'll know that our city's relationship with the LGBTQ community has been tumultuous at best.
We went from having the largest queer space in the western states, "Hide and Seek," to being labeled the hate state with the passing of Amendment 2; from being the first city in the state to pass protections for queer government employees to having a pastor excommunicated for having an affair with a man.
We're literally all over the place.
I say all that because, as a queer person, I am so excited that a lovely gay couple left their acting jobs on Broadway to open ICONS here, in the heart of downtown Colorado Springs at 3 E. Bijou St. My excitement is so great, I even want to bring my straight friends. Eek!
For years, the Springs has had less than ideal queer spaces, often relying too heavily on the fact that they're queer to keep them in business, rather than having a genuinely amazing space.
In a world where being LGBTQ is not something you need to hide anymore and where apps provide a digital space for people to find dates, simply being a queer space isn't enough anymore, and that is evident by the disappearing spaces in the Springs.
Prior to ICONS opening up, the only LGBTQ space left for adults was Club Q (to learn more as to why and our history, check out this article). And as much as I appreciate Club Q for enduring, I would never take my straight friends there.
But ICONS is something I want to show off. It gives me mom-from-New-Jersey-saying-look-at-what-Jimmy-did vibes — I just want everyone to know about it.
ICONS is not just a great gay bar, it's a great bar, queer identity aside, and instead of hiding or being ashamed of who they are, they're loud and proud and wanting to educate people about queer culture and queer history.
"We wanted it to be a little educational," said John Wolfe, one of the two owners. "We realized pretty quickly that there's kind of a backwards view on what a gay bar meant for people here. So we wanted to build everything in the bar — the artwork, the menu items — everything is based around queer icons of history." (Hence the name.)
And they really hit the nail with the stiletto.
From the moment I walked in, I could tell Wolfe and his partner in business and life, Josh Franklin, deeply love queer culture.
Drag queens singing show tunes. Delicious bevies named Dolly Patron and Ella Fizzgerald. A grand mural of the Golden Girls.
"We're like a mix of class and camp," Franklin said, which perfectly describes their aesthetic — not too classy where you feel you need to put on a tie and not too campy where you're wondering what's actually a joke and what's being passed as a joke because it's just bad.
But ICONS is more than some bar trying to educate you like some fabulously gay magic school bus where you can get drunk (although I would absolutely go to that bar); it's also about celebrating.
"[Gay bars in the Springs have] had a sense of shame behind them like Hide and Seek and the Underground. There's something very, like, please-don't-tell-anybody-that-we're-gay about it that didn't sit well with me," Wolfe said. "We were adamant about [ICONS] being a celebratory space, not apologizing for being gay."
And what is there to apologize for?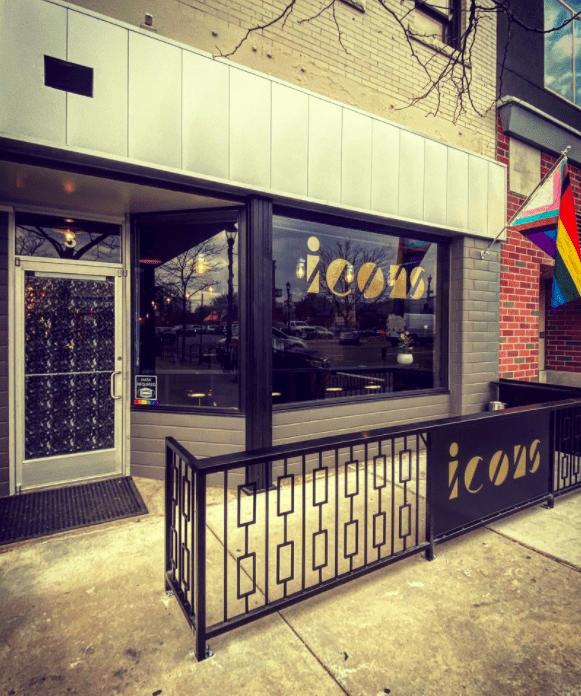 Far too often, queer people, including myself, have felt like we need to prove we belong, apologizing for our existence (especially in a city where organizations like Focus on the Family have rallied to make marriage between queer people illegal). ICONS says, with everything they do, "We are fantastic. Let us prove that to you" — a sentiment that Franklin and Wolfe hold so tightly in everything they do and with every interaction.
"We want people that maybe don't have exposure to the queer community to come here," Wolfe said. "See how nice people are, how fun we are, and I dare people to come to come and not have a good time with us."
And they are proving it to this city. During my conversation with them, they shared that the city has been incredibly supportive. They haven't received any negative backlash and at least 50 percent of their customer base is straight. Colorado Springs is showing that it is changing for the better, and as a queer person, that makes me so excited. Finally, a city that believes in me.
ICONS is open from noon to 8 p.m. due to new COVID-19 restrictions. They have a lovely patio where you can expect bartenders and owners alike to sing show tunes every hour. Come in during December to be serenaded with Christmas tunes.
     To learn more or make a reservation (highly recommend with their limited seating due to the pandemic), check out their website.