November 15, 2016
Anne Stewart
     As students, we know that there is plenty to do during the semester: an everlasting load of homework, jobs to pay the bills and, hopefully, a social life.
     But life is not only about the chaos of hitting the next few deadlines.
     During the holidays we have the opportunity to contribute to the community by helping those in need. Multiple organizations downtown seek to help those facing poverty or homelessness by working together to provide a hot meal or a place to sleep for those in need.
     Students who want to take some time to volunteer for a class or to give their time can visit several organizations that provide services to the homeless.
     No matter how you choose to spend your time, it never takes too much to give a little bit back. You may find that it boosts your mood while helping to lift someone else's spirits, meet new people or learn about the diverse community around you.
The Marian House Soup Kitchen
14 W. Bijou St.
Hours: Monday-Saturday 10:30 a.m.-1:00 p.m.; Sunday 8:45 a.m.-1:00 p.m.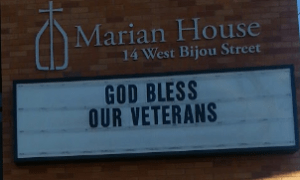 The Marian House Soup Kitchen, a subset of Catholic Charities of Central Colorado, has been open since 1985. The organization serves around 600 meals a day.
     The Soup Kitchen, which works with Springs Rescue Mission and Care and Share Food Bank for Southern Colorado, accepts donations online and various other ways throughout the year. A drive that just ended accepted frozen turkeys to be donated to families in need for the holidays.
     Two facilities make up the Marian House: the Marian House Soup Kitchen and the Hanifen Center, home to their Poverty Reduction Services, which include community outreach, client services and life support.
     Those who wish to volunteer can drop in to the Soup Kitchen Monday-Friday from 10:30 a.m. – 2:00 p.m., and every fourth Saturday from 11:00 a.m.-1:00 p.m.
     Applicants fill out a registration form and a waiver, and go through a quick interview to volunteer. For more information, call 719-866-6559.
Springs Rescue Mission
5 W. Las Vegas St.
Open 24 hours Monday-Friday, Saturday-Sunday
Meal times: Monday-Saturday 4:00 p.m. and 4:35 p.m.
     The vision of Springs Rescue Mission, founded in 1996, is to transform lives as the Colorado Springs community fights homelessness, poverty and addiction. The mission's work started by giving food to the homeless community in Colorado Springs.
     Now, the organization has expanded with its Samaritan's Kitchen, a winter shelter and support service operation for families. People are able to eat, have shelter and warm clothes for the winter months as a result of these services.
     Anyone who wishes to contribute can volunteer or donate. For more information, visit springsrescuemission.org/ ways-to-help.
Seeds Community Cafe
109 E. Pikes Peak Ave.
Hours: Monday-Friday 10:00 a.m.-2:30 p.m.
     Seeds Community Cafe of Colorado Springs is an organization that is centered on a pay-it-forward model, which repays others of a good deed after someone else does it first.
     Seeds seeks to implement this philosophy by building community through the sharing of food.
     The community cafe runs on a pay-what-you-can system, meaning that those who eat there can decide what they want to or can pay for their meal. Customers pay more toward someone else's food, or can spend time working in the cafe for their meal.
     To support this establishment, people can simply go and eat, paying for their own meal and maybe for another's.
     In addition to supporting the cafe by eating there, they are always looking for volunteers. Applications for volunteering can be found at seedscommunitycafe.org/ volunteer/.