Sept. 23, 2013
Nick Beadleston
[email protected]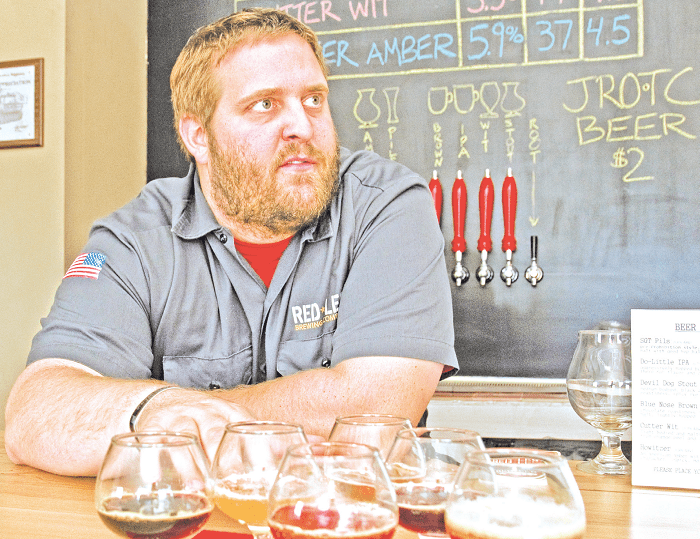 Nestled in a warehouse off Garden of the Gods Road on Forge Road, the Red Leg Brewing Company is gaining a reputation as the go-to joint for prior and active-duty service members.
"I wanted a group of people that understood what we had gone through," said owner Todd Baldwin, referring to both his staff and his patrons.
Baldwin is a former army officer who left the service in 2009. Unhappy in an IT job, Baldwin began to write business plans for a brewery.
"Is that really what I fought for? To be in a cubical for the rest of my life?" he recalled thinking.
After being terminated by his employer, Baldwin was able to concentrate on finishing his business plan for Red Leg.
In the face of several monetary setbacks, Baldwin was able to secure the necessary funding in December 2012.
The rest happened overnight – quite literally in the case of the 37-foot bar, which was constructed the night before the grand opening.
Despite fears of a small turnout, when Baldwin unlocked the doors on July 4, the parking lot was packed. Since then, demand has increased.
Baldwin said employees are working up to 80 hours a week to keep the taps flowing and to complete work on the facilities.
The warehouse portion of the brewery currently houses more than 120 used kegs. Each contained 15 gallons at one time.
While his team plans to one day distribute, the immediate concern is brewing enough beer for bar-side patrons.
The brewery offers six craft beers and is working on seasonal beers. Each brew is named after a different branch of the military.
"Howitzer is my baby," Baldwin said. "It's quickly becoming one of our most popular beers."
Patrons can also try SGT. PILS, a pre-prohibition beer brewed from a 1911 recipe. Or they can sample DO-Little IPA, a malty beer that is "aggressively hopped but not bitter."
Michale Acerra, the assistant brewer responsible for quality assurance, spoke about plans for a Belgium dark ale. "It's gonna be that really dark, figgy ale; I'm excited."
Regarding plans to eventually distribute brews, Red Leg will use cans instead of bottles.
According to Jeff Lockhart, master brewer and former army helicopter pilot, cans present several advantages over glass. "[A] brown bottle keeps most light out, but a can keeps it out completely," he said.
Lockhart also advocated the environmental attributes of cans. He explained cans are lighter and easier to recycle, which he hopes will dissuade patrons from littering.
Additionally, he pointed out that cans are allowed in certain recreational venues, where bottles often are not.
Even though recently created, the brewery is no stranger to history. The term "red leg" harkens back to the civil war name for artillery units.
On the wall above the bar is written, "You may be whatever you so resolve to be," a quote by Confederate Gen. Stonewall Jackson.
While not inundated with military memorabilia, the bar does host several patriotic symbols, including at least one flag flown during combat missions.
Baldwin stated the brewery was in phase two of its development: fabricating a new, larger brewing system. While Baldwin outlined his immediate vision for the facility, he said there is no final phase.
The staff of Red Leg Brewing Company enjoys the bar's atmosphere. "We're not a come and get banged up and stumble home establishment," said Baldwin in regards to Red Leg's 8 p.m. closing time.
Baldwin also recounted this season's first Bronco's game, which was displayed on and empty bar wall via a projector.
When the national anthem began, every patron in the house, service member and civilian alike, stood in reverent silence.
"This is by far the best military town I've ever been to," Baldwin said. "Right now, I couldn't ask for anything better."