4.5 out of 5 stars
The latest film in the Marvel Cinematic Universe, "Shang-Chi and the Legend of the Ten Rings," is blowing up the box office since its public debut on Sept. 3.
This is not atypical of a Marvel movie; however, Bob Chapek, the CEO of Disney, called this movie an "experiment," which was made clear by the lack of marketing and commercials in the months leading up to the film's release.
Simu Liu, who portrays Shang-Chi, replied to Chapek's comment via Twitter, saying, "We are not an experiment. We are the underdog; the underestimated. We are the ceiling-breakers. We are the celebration of culture and joy that will persevere after an embattled year."
Being Asian myself and knowing about the lack of promotion this movie received may have influenced how much I enjoyed this film. However, I know many people who were unaware of these elements and still had fun with it.
"Shang-Chi" tells the tale of a young Chinese man living in San Francisco with a past he hoped to leave behind. Unfortunately, certain people are determined to keep him from having a normal life and he finds himself fully immersed in the legend of the Ten Rings and returning to familiar places.
There were some absolutely breathtaking moments in this film, despite it having a budget of $150 million rather than the average of $190 million for the Marvel Universe. From the soundtrack to the visuals, exploring these new settings is exciting.
     The best scenes by far have to be in the martial arts action shots with characters you want to root for, both of which are executed almost perfectly. When Shang, his father or sister engage in combat, you immediately get a chill down your spine as you watch each of their calculated blows.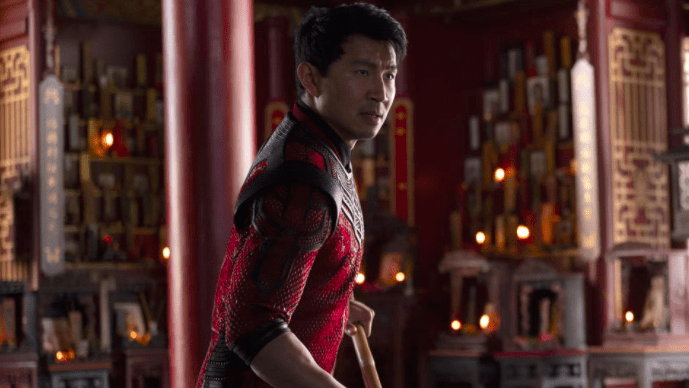 The fight choreography is devastatingly cool, dynamic and widely praised, as it should be. I was a little disappointed that there weren't more martial arts in the film. The camera work is simultaneously in sync, as we move along with the characters in a way that doesn't feel disjointed or wonky which some martial arts films can fall victim to.
While I felt Shang's humorous personality fell a bit flat in the second half, it made sense given that the circumstances were much more dire. He is still very likeable and you empathize with his unfortunate past and who he is maturing to be.
Awkwafina playing the role of his best friend Katy seemed like a strange pick to me at first, but I think she truly did fit what the writers were aiming for with the character. Awkwafina is known for playing comedic roles and, as such, Katy is the comic relief. However, she proves to be a supportive friend and a helpful ally as the film progresses.
The rest of the cast, which was primarily Asian, clearly gave their best efforts and I had no qualms with them at all. I felt the representation of Asian actors in an Asian film was lovely and done respectfully. Tony Leung Chiu-wai as Shang's father was perfect casting. He understood his assignment and committed to playing his part, subsequently winning my heart.
While not a perfect film, "Shang-Chi and the Legend of the Ten Rings" is a movie to be proud of with a loveable main character, incredible action sequences and a memorable soundtrack.