4.5 out of 5 Stars
RoadHouse Cinemas, which shares a joint bar and kitchen staff with Rail Yard Gaming + Gastropub, is a "movie theater and dining experience" located off of North Nevada Avenue and not far from the UCCS campus.
The first business front is to provide a pleasant cinematic experience for movie-goers, though it is far from your typical ho-hum viewing. They are open every day of the year and provide fine dining at the same time as you watch the next blockbuster on the big screen.
I have been to a few of these "dinner and a movie" businesses before but was never truly impressed. Usually, such places do not offer much variety, and the food is subpar with stale nachos or burnt chicken tenders.
RoadHouse offers several different types of hamburgers, salads, appetizers, alcoholic beverages, milkshakes and more. This is in addition to the popcorn and candy you might find in a typical movie theater. You can find their menu at the following link. The silly names on the menu such as "Pickle Ricks," in reference to the show "Rick and Morty" and their deep-fried pickles, are my favorite part about this place!
     In my first venture to this cinema, I saw "Chaos Walking" but had to reserve seats well before arrival due to social distancing requirements. I thought this was well done, and the available seating is spaced a good length away from other guests. Perhaps my favorite bit was that the chairs were recliners, very soft and not at all like your average hard seating that most theaters would have you sit on.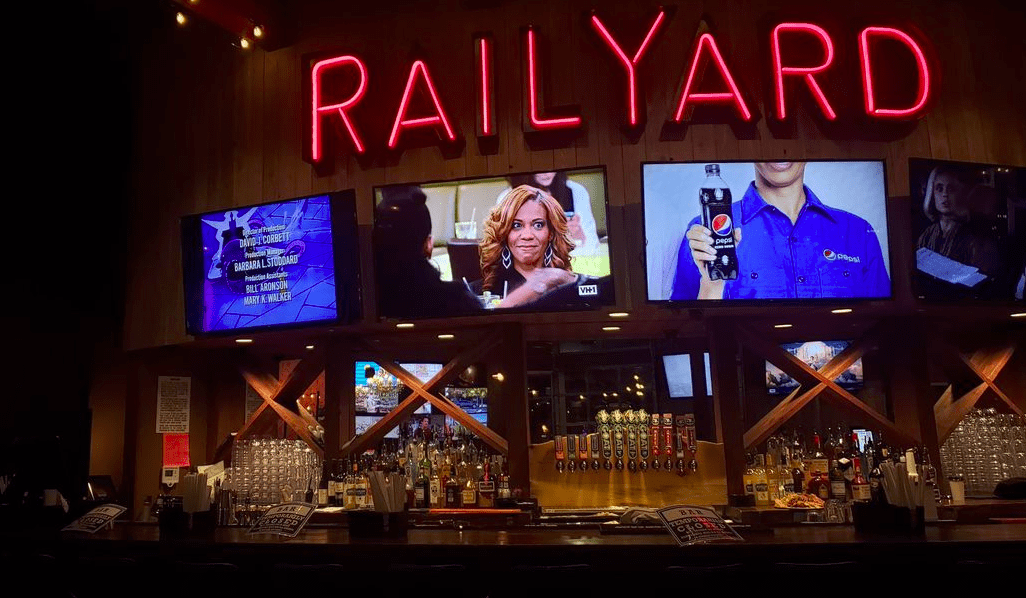 All employees followed public health guidelines, and the atmosphere was very safe and comfortable. You could call someone for assistance with the press of a button next to your seat, which spared the awkwardness of flagging down an employee to help you during the movie and seemed to make their jobs easier as well.
The theater room itself was very clean, and the employees sanitized sections after people vacated. In addition, several hand sanitizer stations are located around the space, and everyone must wear masks except when actively eating or drinking.
     I was satisfied with the service and beyond ecstatic to learn that they had fresh salads to munch on during the film. I highly recommend the "Spartacus" for those who enjoy a little bacon in their salad along with croutons, cherry tomatoes and parmesan cheese. 
I also believe the prices are fair for the amount of food you receive, though I think appetizers may be a bit overpriced.
This week, I was not feeling a full meal, so I selected the "Big Rope Soft Pretzel," which is just meant to be an appetizer. I thought it was alright, but I would not order it again because of how much butter was slathered on it. I was constantly wiping my hands on napkins. (However, I was told that the pretzels vary depending on who in the kitchen is making them.)
Rail Yard Gaming + Gastropub has miniature bowling, arcade games, crane games, several televisions all displaying a variety of shows (not just sports!), ping pong, shuffleboard, cornhole and more. I only had time to visit one of these attractions but was surprised about how thrilling it all was.
Next to the bowling alley, they have a virtual reality game set up to play "Beat Saber," a three dimensional rhythm game that costs $30 on Oculus Rift. For $3 you can play a single game at Rail Yard. It may not seem like a deal, but it is much more immersive, in my opinion, and fun to watch friends get into the groove slashing at virtual squares to the beat of the music.
Overall, if you are looking for a fun outing with friends, a date night with a significant other or even an activity to do on your own, I would recommend Rail Yard Gaming + Gastropub and RoadHouse Cinemas! The staff is friendly, the food is much better than the usual movie theater and the atmosphere is purely fun and entertaining.
Currently, the theater is showing "Chaos Walking," "Godzilla vs. Kong" and "Raya and the Last Dragon." You can check out their website for other movies and more information.