October 10, 2016
Hannah Harvey
     The Saudi Arabia club held an event celebrating Saudi Arabia Independence Day on Sept. 27 from 1-4 p.m. in the Daniel's K-12 Room in Osborne. The event celebrated Saudi Arabia's 86th Independence Day with various informational posters and brochures that educated students on Saudi Arabian culture.
     Students had the chance to learn about traditional dressing and Saudi Arabian history, along with various aspects of traditional Saudi culture.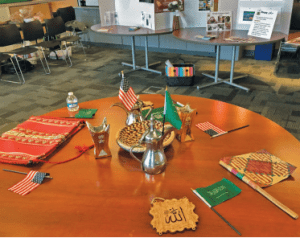 Traditional Saudi Arabian food, including Arabian baklava, dates and tea, were served to students who attended the event.
     Students also had the chance to learn Arabic from club member Aziz Alodah, junior mechanical engineering major. Common phrases such as "hello," "thank you" and how to ask for different locations were taught as part of the lesson.
     After this lesson, students and faculty members took a pop quiz on Saudi Arabian history and culture. Three winners each received a $10 gift card to Panera Bread as a prize.
     The club was established three years ago, according to club member Faris Kateb. Kateb, a fifth year computer science Ph.D. candidate, was president last year. Kateb said that the idea to create the club came from another school.
     More information on the Saudi club can be found on their Facebook page https:// www.facebook.com/scuccs/.