29 October 2019
Annika Schmidt

The Student Government Association (SGA) senate approved a resolution affirming their support for students who attend UCCS through the help of the Office of Inclusive services to be allowed to walk on stage during commencement at their Oct. 24 meeting.
The Office of Inclusive Services helps intellectually disabled students attend UCCS and earn a certificate.
Only allows students in degree seeking programs to walk during commencement. Students who are enrolled in the certificate program with the Office of Inclusive services are unable to enroll in a degree seeking program because of how services are modified to accommodate their disability.
The resolution in favor of allowing these students to walk, numbered SR-02, was presented by Jon Dumas from the Office of Inclusive Services and Phillip Oke-Thomas, the SGA vice president.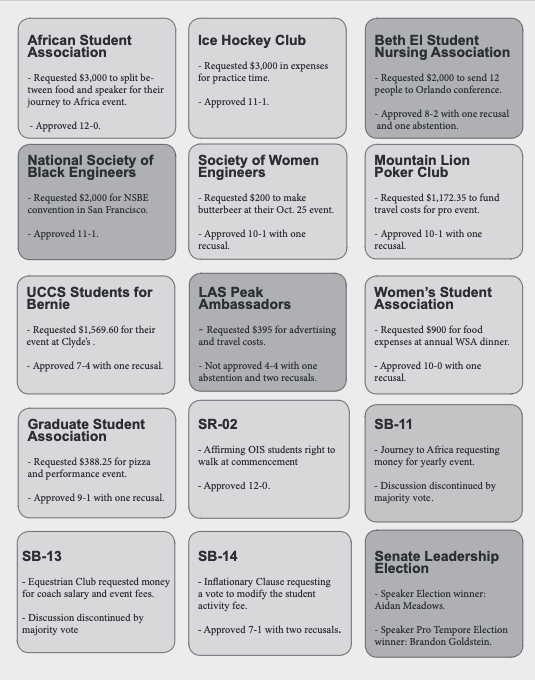 "We need to empower those with disabilities," said Dumas. "To do this, the policy needs to be changed."
The resolution's approval shows the administration that the Office of Inclusive services has formal support from the student body because of the representational nature of SGA, which could help change UCCS policy. Meadows also introduced a bill that would start the process of changing the student activity fee to account for a decline in enrollment, numbered SB-14. The bill was approved and will be sent to Chancellor Venkat Reddy, who will make a final decision on whether or not to include the student activity fee change on the next ballot.
After stepping down from Senator of Sustainability and Speaker of the Senate, and being re-appointed to Senator-at-Large, Brandon Goldstein was elected Speaker Pro Tempore, who will act as the Speaker of the Senate in the absence of the newly elected speaker, Senator of LAS Aidan Meadows. Meadows was elected to the speaker position after winning a vote against Senator-at-large Samuel Shuemann. Goldstein won his election against Senator of Innovation, Stephanie Moyer.
The speaker is the leading senate representative and presides over debates and votes during senate meetings, and casts tie-breaking votes.
Raven Chavez-Maltby, SGA Director of Finance presented nine Budget Advisory Committee (BAC) recommendations.