April 3, 2018
Eric Friedberg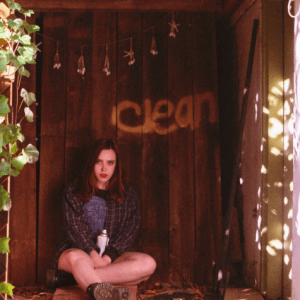 Waiting for a sliver of light to shine through their tightly shut blinds, bedroom pop band Soccer Mommy holds nothing back on their newest album, "Clean."
     On "Clean," released March 2, the band crafts an intense sound while staying true to adolescent themes. Soccer Mommy refuses to make a vengeful album. Instead, they choose to talk about situations for what they are.
    Abusive relationships, staying cool and teen problems are the root of their eclectic sound.. The lyrics are mature enough for everyone to interpret and analyze, but the adolescent nature of the songs add to a melodramatic teenage theme.
    Allison Sophie, a 20-year-old Nashville native, is the founder of Soccer Mommy. Sophie wrote the lyrics for many of the band's bold and brash songs.
    Sophie isn't afraid to call people out on their animal-like behavior. In Soccer Mommy's song "Cool," she expresses how people's treatment of her has shaped her into the person she is today.
    "Mary has a heart of coal/She'll break you down and eat you whole/I saw her do it after school/She's an animal."
    Even though Soccer Mommy doesn't necessarily broadcast their musical influences, the tunes are slightly reminiscent of a darker more troubled version of Taylor Swift.
   Sophie's guitar movements on the record exhibit impressive hammer-on and pull-off techniques that are delicately interwoven in songs like "Your Dog" and "Still Clean." These contrast to her lyrical metaphors about confronting the emotional toll her last relationship took on her.
   In "Wildflower," the bass drum takes control about half way through the song and acts as the audio equivalent of a teenager moping down the stairs after a rough day at school.
     The departure Soccer Mommy is taking on their new record doesn't abandon Sophie's twangy Fender Telecaster guitar style or bedroom pop nostalgia you hear in her earlier records. Instead, it adds a live band to the recoding to make the mix sound fuller.
     Since the beginning of 2016, a slew of female-led bedroom pop music projects have emerged from the shadows of Bandcamp, a platform for artists to share and sell music with the public. Tracked EP's always seem to be constantly evolving, and resulting in richer productions.
   In bedroom pop, a type of lo-fi music, imperfections in recordings are audible and the sound quality is lesser than that of the normal musical standard.
    Artists who fit into the category of bedroom-pop like Julian Backer, Snail Mail, Adult Mom or Ian Sweet are not necessarily pioneering the scene. Instead, they are encouraging strides toward popularity within a female-led band.   
    So when Neil Portnow, president of The Recording Academy, said that "women need to step up" during the 2018 Grammys, perhaps he was speaking prematurely, since Soccer Mommy's new album, "Clean", was released about a month later.
    Whether Soccer Mommy was making low quality bedroom-pop, because they were on shoestring budgets, or because they seriously enjoy this sonic style, it's a form of songwriting that the group has mastered completely.