November 08, 2016
Kyle Guthrie
     When this holiday first started, those who celebrated Day of the Dead would cut off the heads of deceased loved ones and create a mold over it. Now, sugar skulls, which represent the old custom, are widely known as a symbol to represent Dia de los Muertos.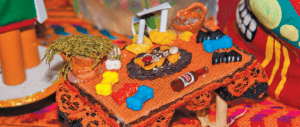 The 10th annual Altar of the Dead for Día de los Muertos, or Day of the Dead, was celebrated on Nov. 2 in University Center by the Spanish language club El Círculo de Español.
     The holiday display was outside Berger Hall which had a table that featured several staples of the Mexican holiday, including complimentary cinnamon hot chocolate and pan de Muertos (bread of the Dead), baked sweet rolls covered in cinnamon and sugar.
     There was also a display dedicated to deceased Mexican author Carlos Fuentes, complete with traditional altar items such as water, marigolds and several items enjoyed by the author.
     Denisa Grofova-McCombs, event volunteer, said that everyone seemed to enjoy the display.
     Grofova-McCombs also handed out fliers to guests with information about the event and the holiday.
     "It's a wonderful holiday, probably the most important one in Mexico, so I think it's very cool," she said.
     Edgar Cota-Torres, associate Spanish professor, said the holiday has a strong historical significance.
     "This dates all the way back to the Aztecs, and it goes back for centuries," said Cota-Torres.
     "If you go to a cemetery today in Mexico, it's going to be a huge parade and celebration."
     The holiday is meant is meant to celebrate the deceased, but while sweets and parties accompany the holiday in Mexico, people take the time to mourn as well.
     "It's a sour-sweet celebration, because you are celebrating those who have passed away, but honoring the time that they were with you," said Cota-Torres.
     The altar also featured several pieces of art from Mexico commemorating the holiday. Many of the pieces were collected by Cota-Torres in Mexico.
     Students stopped by to see the display while passing by Berger Hall, including Ashley Skogen, a senior biology major.
     "We went last year and it was really fun, so it's good to see what other cultures are doing," said Skogen.
     The event was made possible thanks to several clubs and departments at the university.
     "This is the tenth year that we have had this celebration here at UCCS, and we have the support from the department of languages and cultures and El Círculo de Español," said Cota-Torres.