Bouldering may seem simple to the average person, because it just involves moving your feet and hands to different holds on a wall, right?
In actuality, bouldering can be, and is, an intense sport that involves critical thinking and strength. The goal of the sport is to solve climbing problems specifically designed by route setters for people at varying levels of difficulty.
Springs Climbing Center (SCC), formerly known as Sport Climbing Center, is a mere five minute drive from the UCCS main campus and seeks to offer its customers a "state-of-the-art training facility imbued with a rich history and a warm, inviting community of climbers," according to their website. From the casual climbers who want a fun activity to do with friends to the more serious boulderers, SCC has it all.
SCC was established in 1992 by Ric Geiman, Mark Van Horn and Eric Christianson, who were uncertain of how well a rock climbing gym would fare in their day. This climbing gym has been a success after staying open and evolving for nearly thirty years.
I have been attending SCC for about a year but only went sporadically when my twin sister urged me to go with her. She is quite fascinated with the sport and will climb at the gym for hours on end, several days a week. I am far more lax with the routes I choose to approach, and I can do a V2 or V3 without too much trouble. (See V-Scale below)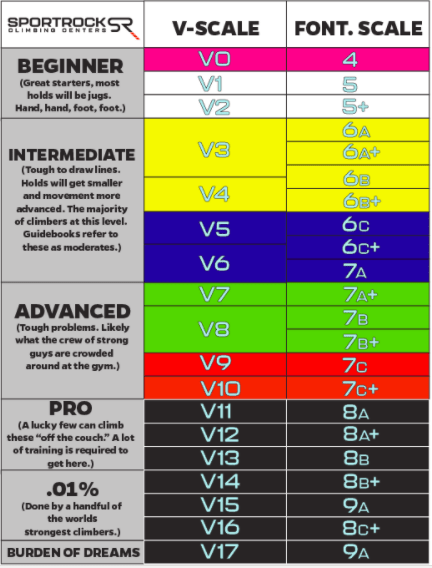 My sister, on the other hand, has made it her mission to push her limits and can consistently maneuver V6s. Much to my delight, she has conquered several V7s, while I am quite happy with a V4.
    As a climber myself, I find it important to note for anyone interested in climbing that it is much more challenging and fun with friends. While you may enjoy yourself alone, it is part of the culture to have people who will keep encouraging you to do your best. 
Watching climbers, even if you are not the one climbing, is truly exciting, as you witness them applying both their minds and bodies to a strenuous route. People come together to cheer one another on and practice their techniques.
With closing hours as late as 10 p.m. from Monday-Saturday and 8 p.m. on Sundays, there is plenty of time to fit in a little exercise into your schedule.
And, perhaps there is some bias in this comment, but people are allowed to bring their dogs outside of peak hours, which just adds a "cuteness" bonus to an already enjoyable outing. Who would not want to boop the nose of a fluffy puppy after a particularly tough V5?
Still, why would I select SCC? Colorado Springs is ripe with places to exercise and other climbing gyms such as City Rock, Gripstone Climbing and Fitness and Front Range Climbing Company.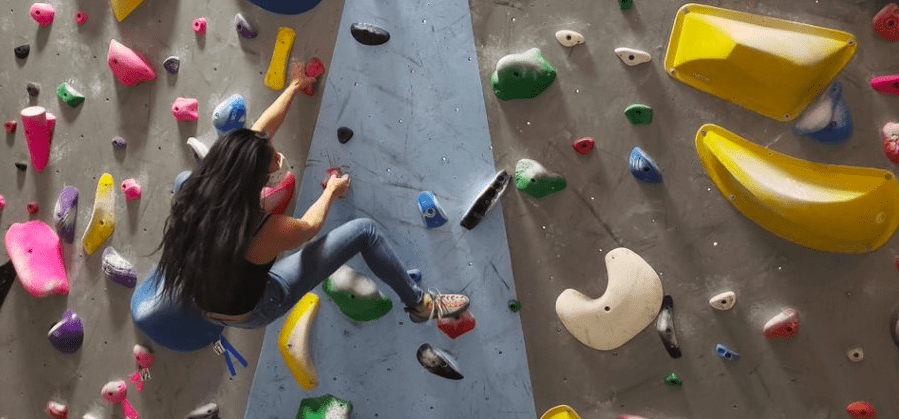 According to Brody Sims, an accounting major and third-year student at UCCS, he prefers SCC because it is a bouldering gym, so no harness is needed for most of the routes.
"[Another reason] is that they're only a mile and a half or so off of campus," which for Sims would be a twenty to thirty minute walk. After more consideration, he added that "the staff [is] super cool" and that there are multiple friendly people, which is important in such a community-based sport.
     Tristan Lee, a third-year electrical engineering major and frequent climber at SCC, commented that he favors SCC due to the different grades they set for climbers. He said he also appreciates the fact that the routes change every week, which presents new and challenging opportunities. 
Additionally, SCC happens to have deals for both their newcomers and regular members. These prices are ideal for students. They give about a 20 percent markdown for university students, military, teachers and first responders. A day pass, for example, is typically $15, but with a student ID one would only need to pay around $12 to gain entry.
For those seeking a membership with monthly payments, it would normally cost $55 while the aforementioned groups would get their membership at the discounted price of $49 per month. To take advantage of a membership, a person would only need to utilize SCC's gym at least four or five times a month.
This small business is handling COVID-19 by implementing multiple social distancing requirements and safety measures to ensure the health of both the employees and patrons. Some of these conditions include: wearing a mask, staying six feet away from others at all times, sanitizing your hands upon entry and throughout your session and limiting how many people can be in the gym simultaneously.
For a few months at the beginning of the year, SCC shut down for quarantine, but they have been running smoothly ever since reopening and following all guidelines to keep their climbers happy and healthy.
If you are ready to get up and out, especially during these final weeks of the semester, give SCC a go.