October 31, 2017
Hannah Harvey
    Gallons of water poured over Houston, Texas as Hurricane Harvey made landfall, displacing 32,000 people and killing 20. For one student, the hurricane was a call to action to help those in need.
    Freshman communication major Johnny Siren contributed to hurricane recovery efforts from Sept. 23-30 following Hurricane Harvey.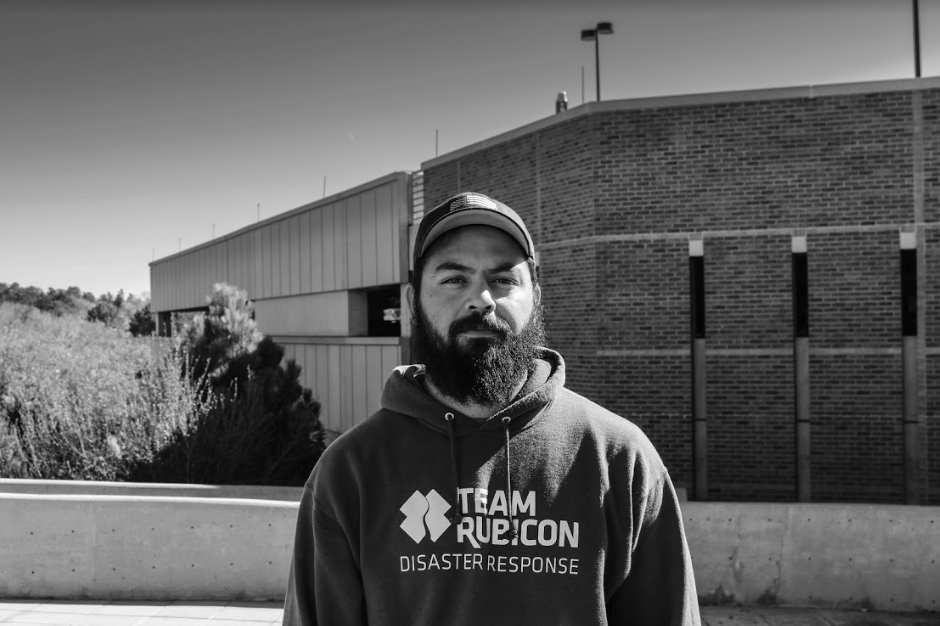 Siren, a former Navy cryptologic technician, traveled to Houston, Texas as one of 1,037 volunteers with Team Rubicon, an international veteran-led disaster response nonprofit.
    Since Harvey made landfall, there have been 2,400 total Team Rubicon volunteers who have provided recovery efforts. American Airlines provided 11 chartered flights for the volunteers from major cities all over the country, according to Siren.
    "For the week that I was done on Operation Heart Hustle, which is the name of the overarching operation of everything that we're doing, I think we had up to eight sites we were working on in Texas," he said.
    But, recovery efforts are still ongoing. Volunteers will remain in Texas until the end of the year, Siren said.
    As of now, the team's work in Texas is mainly mucking out houses that have experienced flood damage. Mucking includes minimizing damage from flooding, mitigating mold risks, getting rid of destroyed possessions and chainsaw work.
    "We removed dangerous and damaged trees within the scope of what our sawyers have experience with. We have heavy equipment operators; we use things like skid steers and excavators to do full demos if that's what the house calls for," he said.
    Alongside Texas, Team Rubicon is currently providing efforts in Florida, Dominica and Puerto Rico following Hurricanes Irma, Maria and Jose.
    Nationwide, 55,000 members are a part of Team Rubicon, which is 13,000 more than what the nonprofit had before Hurricane Harvey, according to Siren.
    "Our motto is 'disasters are our business; veterans are our passion," said Siren. "We're a relatively young organization. We were founded in 2010 after the earthquake in Port-Au-Prince, Haiti, and to date, we've done over 220 domestic operations and hundreds of international operations as well."
    Prior to Harvey, the organization hosted a fundraiser in July to prepare for hurricane season, said Siren.
   "As the weather reports started coming in that there was a big storm headed towards the coast, our national planning team started working out the logistics of how to get who where to get the job done," he said.
    In Texas, while volunteers were trained to deal with heavy equipment and other technical aspects, Siren said that an overlooked piece of the recovery effort was making connections with homeowners.
    "We're there to take a bite out of their bad day, and it's pretty hard to do that if you're not going to let them know that they're more than just a job assignment for the day," said Siren.
    "That's kind of the concept behind our organization as well. When we were founded, the concept was a way to reconnect veterans with the concept or service and to give them a purpose, to give them a family and to reestablish their identity so that we can reduce the number of veteran suicide fatalities."
    Siren serves as the outreach coordinator for Colorado Springs and as the primary contact for the service club, Team Rubicon U.S.A., at UCCS. Participating in the organization has helped Siren adapt more to civilian life.
    "For my own perspective, getting involved immediately helped mitigate pitfalls veterans run into," he said.
    According to Siren, many veterans feel lost once they leave their military service behind as they are expected to come up with their own mission on a day-to-day basis.
    "You spent that whole adult life with a mission, even in the beginning if that mission is to stand at attention and get yelled at.," said Siren.
    In Colorado, Team Rubicon has established city teams in Colorado Springs, Denver, Fort Collins and Boulder.
   At UCCS, Siren has given presentations to student veterans in GPS 3010 –Transition Seminar, a class for first-semester transfer students, and spoke at the Student Veteran Discussion Panel in response to a satirical flyer suggesting that veterans be banned from UCCS in August.
   The organization offers comradery; there's an easy connection be made with folks who know that they have been through the same things, said Siren.
   Team Rubicon U.S.A. is not exclusive to student veterans; anyone can join as a volunteer, said Siren.
   For more information on Team Rubicon U.S.A. at UCCS, visit Mountain Lion Connect.
   To donate to relief efforts, students can donate $10 by texting 80077 to "RUBICON." Siren suggests not sending any secondhand items like clothing; instead, donate time by volunteering with organizations such as the Red Cross.