Mar. 14, 2016
Alexander Nedd
[email protected]
Rating: 5 out of 5 stars
When it comes to new technology, there are few developments that are surprising anymore.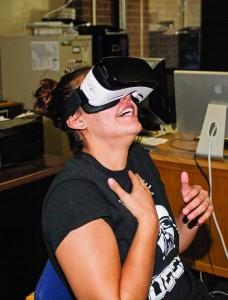 A new car or cell phone might have features we have never seen, but as we progress into the 21st century, those minuscule improvements seem small.
But this is not the case with the new Samsung Galaxy Gear VR headset.
Released March 11, the Gear VR is a personal virtual reality headset. Nothing says future more than placing your head inside another world and taking a peek around.
The Samsung Gear VR is available for $100.
Not a bad entry fee for the wave of the future.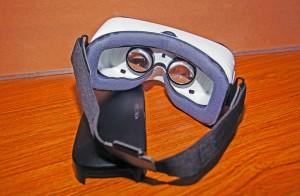 They are compatible with Samsung Galaxy devices only, with models that include all S6 editions, S7 editions and the Galaxy Note 5.
The technology allows you to view 360 degrees of entertainment right from your living room. Games and scenes such as Jurassic Park and roller coasters are available to view once downloaded onto an appropriate platform.
The graphics seem so realistic that it is jarring to the viewer's senses.
The look is a little out there, as is any piece of new technology not yet introduced for mainstream consumption. While it may look like oversized ski googles, the experience is nothing less than magical.
With just a touch of a button, users can find themselves on the other side of the world.
The Scribe gave students an opportunity to try out the new Gear VR headset.
It was technology students had never used before.
"If it's not too expensive I would (buy it) because that is pretty sweet. (Everyone) should try and do it, it was pretty cool," said senior criminal justice major Quinn Coogan.
Computer science senior Shawn Partin said that eventually this technology will be commonplace.
"I wouldn't buy one just yet just because I know it's going to get a lot better," said Partin.
Other students had different opinions.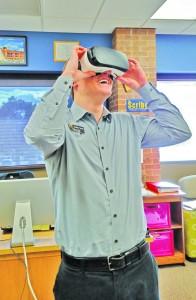 "I'm so disturbed by the idea that I'm here physically, but my reality is completely not here," said freshman English major Stephanie Sundell.
What might be steep is the learning curve needed for the head gear. Finding where you put your fingers after you place the device on your head can accidently exit you out of your reality experience.
You'll need some patience and retention to make it through the first couple of times that this happens, because it will.
The device was tested on the brand new Samsung Galaxy S7. While the quality of the video and sound are intense, playing too long will take a toll on your battery life.
A significant portion of power, about 30 percent, was depleted from the Galaxy S7 after about an hour of play. While this might not seem like a lot, battery life will only get worse as the device gets older, and should be noted for virtual gaming experiences in the future.