Students have a new summer spot to read the latest bestsellers, drink wine and meet with friends right here in Colorado Springs.
Located in the heart of downtown at 112 N. Tejon Street is the new 8000-square-foot Tattered Cover Book Store. The new location houses 75,000 books, an event area and a full-service bar/café, with the hopes of becoming more than just a bookstore for the Colorado Springs community.
Tattered Cover CEO and Colorado native Kwame Spearman said the energy of Colorado Springs is what drove him to expand out of the Denver metropolitan area. "I experienced seeing the changes to Colorado Springs, specifically downtown, and it was very clear to me that we wanted to be here," he said.
Spearman believes the Tattered Cover will become an essential facet of Colorado Springs, and he designed the store to reflect a community emphasis.
"We really believe we're a community institution. What we do is sell books. Who we are, is a community landing spot where people can come, feel welcome, have open discussions and really be themselves," Spearman said.
A large garage window in the storefront faces out to South Tejon Street, which Spearman said "is critical to this notion of being a community space."
The Colorado Springs store features the largest bar of all eight Tattered Cover locations, which will serve as an espresso bar during the day, and a wine, beer and spirits bar at night. Spearman said they will be adding seating areas around the store where patrons can converse, read or simply have a drink while enjoying the atmosphere.
The Tattered Cover prioritizes the customer experience by creating a comfortable environment where customers are encouraged to relax and read before they purchase a book. Spearman quoted longtime Tattered Cover owner Joyce Meskis: "Take three books off the shelf, read a third of each, put the two back you don't like, and purchase the one you do."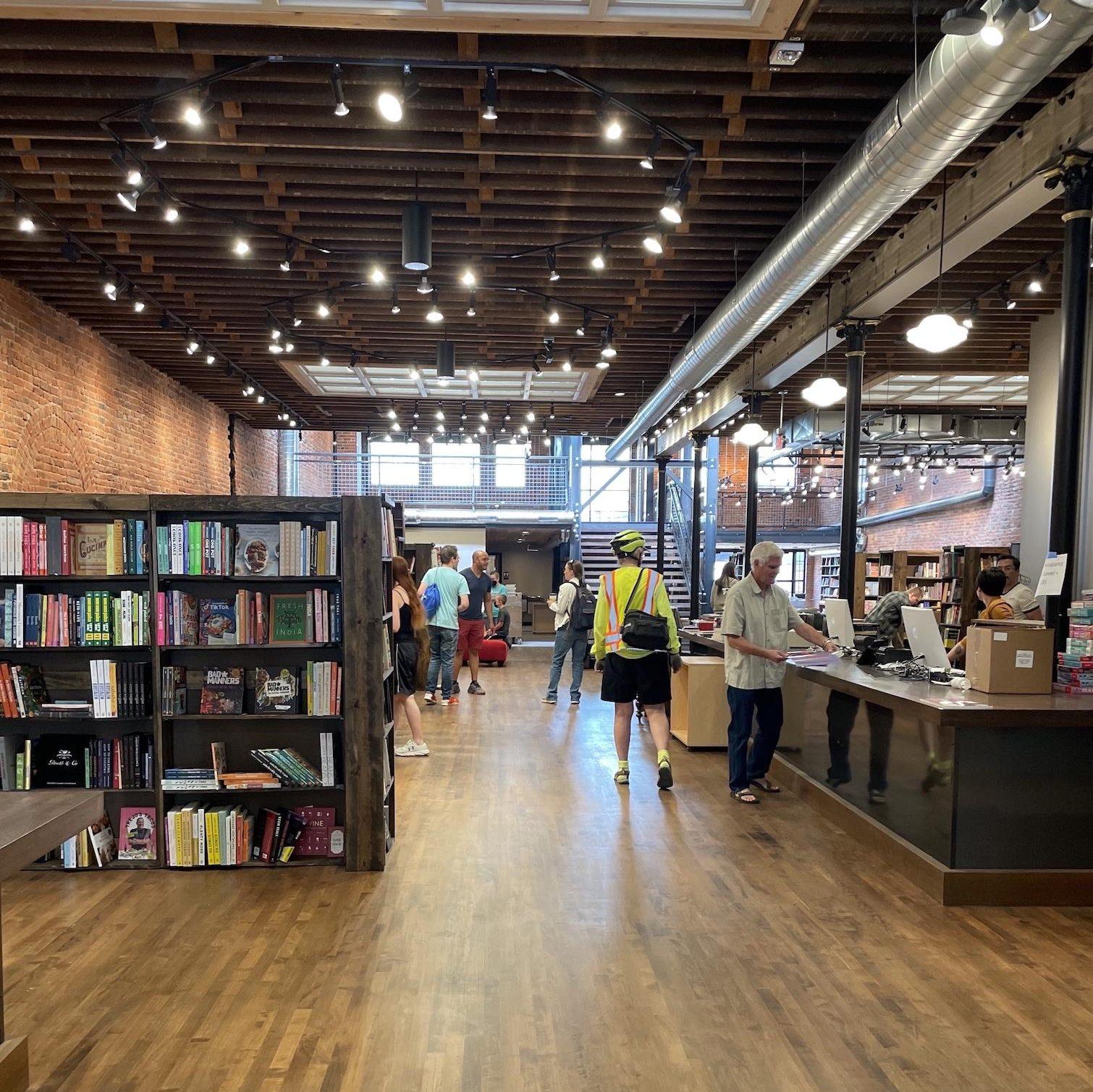 Spearman said one of the Tattered Cover's goals was to have a more extensive inventory without having it physically in the store. So, they partnered with a wholesale provider who will deliver books in 2-3 days to either the store or a customer's home.
While the store is open for business, there is still work to be done before it is complete. According to the barista, the café and bar selections are limited to espresso and wine, but local beers and food will arrive in a week or two.
Most of the floor space is open, except for the upper mezzanine area, which would only be accessible via stairs.
Tattered Cover plans to develop a solution over the next 4-6 weeks to make this accessible for all before they open it to the public, according to Spearman. "We are a community institution. We can't operate this space until we figure out a way that it's either duplicative, or a way its accessible to all of the community," he said.
Spearman spoke about his desire for the Tattered Cover to reestablish a strong independent bookstore presence after the 45-year-old Chinook Bookshop closed in 2004. "The Chinook has been closed for about 18 years, so we are just trying to carry the torch that we think has been absent for those 18 years and become a strong independent presence in Colorado Springs," he said.
The Tattered Cover will be open Monday-Saturday from 10 a.m. to 8 p.m. and Sunday until 6 p.m. Manager Leah Guest said once the employees become better familiarized and the store gets settled, they hope to extend the hours to accommodate an early morning crowd.