October 10, 2016
Ben Patzer
     Tattoos serve as a form of self-expression for many people, whether it's getting your mom's name in a heart on your forearm, or expressing your undying love for science with an amino acid on your ankle.
     But deciding on where to get your new ink can be difficult since there are multiple factors to consider.
     The Scribe reviewed three local tattoo shops to aid your decision of where to go if you decide to go through with the design you've always wanted.
     The small tattoo parlor, Art in Motion, felt like an old office space that had been converted into a studio.
     The shop smelled sterile and clean, and all of the artists were serious and focused on their jobs.
     But the dry atmosphere didn't discourage customers. Half an hour after they opened, four customers were signing waivers ready to get a tattoo.
     The shop's minimum for any tattoo designed in under an hour is $75. Each additional hour of work costs $100.
     Customers are not allowed to go into the artists' area, considering the shop's small space. The shop had a small waiting area and stark white walls, so anyone could become claustrophobic.
     Unlike Art in Motion, Pens and Needles, located above a hair salon, had an open atmosphere. The inviting space resembled an old renovated house.
     The sound of tattoo machines and clients discussing designs with artists floated throughout the shop as well.
     The front desk receptionist was very pleasant and knowledgeable of both the artists and the piercers.
     The price can vary at this shop depending on who does your artwork. Pens and Needles houses 11 artists who charge hourly rates based on the artist with a shop minimum of $50.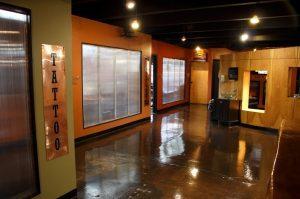 Last but not least is West Side Tattoo. I immediately noticed a significant difference in character once I walked inside.
     Unlike the first two shops, I was greeted with a few warming hellos and the sight of a shirtless man getting another chest tattoo.
     I grasped the owner's passion for his work when I spoke with him about the tattoo industry.
     Unlike other tattoo shops, West Side believes in artist-to-client relationships. The shop takes the time to pair the client with the perfect artist for their desired tattoo style. Seven artists work at the shop and they tend to be booked for weeks in advance.
     Each tattoo has its own price range with no set minimum rate. Included in the tattoo parlor is a gift shop and tattoo museum, which adds to the dedication the artists feel toward their work.