Travis Boren
When walking into the dimly lit bar, customers are greeted by lacquered wood tables, retro chairs, walls crowded with old alcohol advertisements and trophy vegetables, including a melon with a tiara. The wall-mounted vegetables, also including a horned cherry, resemble the mounted animal heads from hunting lodges.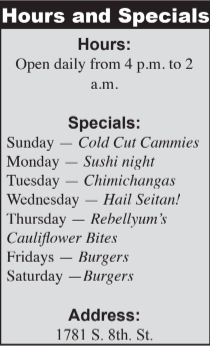 The Burrowing Owl is a vegan bar on the Southwest side of Colorado Springs, furnished entirely with thrifted furniture or furniture that is built from reclaimed wood, opened by long-time members of the local restaurant and bar

Friday and Saturday special is a burger, with a patty typically made with oats, lentils and corn chips.
A highlight from April 27 was a mediterranean-themed burger layered with a sun-dried scene, Cody Rilo and Tyler Schiedel.

According to Schiedel, a UCCS alumni who graduated with a Bachelor's of Arts in Communication in 2001, and contributes $100 every month through The Burrowing Owl to the Gallery of Contemporary Arts at UCCS, every piece of wood used in the interior of the bar was reclaimed from Black Forest, the bartop specifically coming from the Black Forest fire in 2013.
When they opened the bar, with former co-owners Aspen and Mike Nipp, their goal was to create a neighborhood bar environment with an emphasis on being as sustainable as possible.
"The world is already full of stuff, we don't need to add more," said Schiedel. The group used this idea as part of their brand for the whole endeavor, calling the original concept an "owl bar."
The namesake for the bar nests in abandoned prairie dog homes, according to Schiedel, and elements of that philosophy can be seen in the vinyl- sleeve-mounted menus and the check-bearing, thrifted statues like Bearnard the Bear.
The Burrowing Owl is a community spot, as far as Schiedel is concerned, and he works to reinforce that brand identity by foregoing televisions on the wall.
"Shouldn't we be able to have a conversation?" said Schiedel.
Experience with the staff helps reinforce that tone.
Customer service at most restaurants favors an attentive helicopter approach to serving its patrons' needs.
The atmosphere at The Burrowing Owl is more relaxed, which can feel intimidating at first because it can seem like the busy staff is ignoring you. The staff, however, is always welcoming to being flagged down for help and questions.
The couple, Rilo and Schiedel, opened the bar because they found that they could no longer operate in the bar and restaurant industry after becoming vegan because they were conflicted supporting industries they disagreed with.
Food was a small part of the original plan. "We had to have food. I didn't want a bunch of drunk people in here," said Schiedel.
Since then, a lot of the popularity for The Burrowing Owl has come from their simple, comfort food constructions using textured vegetable protein (TVP) to create food with a ground meat texture, avoiding meat replacements like tofu and seitan.
"Seitan is a real beast," said Schiedel, who tries to keep the menu of either USDA certified organic or Non-GMO Project certified foods simple in their clean, oil-free kitchen.
"I started playing around with [TVP] and it had the right texture and consistency," said Schiedel, noting that his favorite menu item is the Spicy Mac, but he eats the Serious Nachos the most because their construction, including a queso made from cashews, always leaves him satisfied.
The bar has a different special every day created by the kitchen staff. Their lettuce and tahini on a black pepper bun.
At times, the specials can fail to impress, but they are certainly inventive.
Most of the cocktails are designed by Rilo, who Schiedel described as a "whiskey girl," by taking a flavor she likes at any given moment and experimenting until it works.
This is how The Mother was developed, which also happens to be Schiedel's favorite, made from Benchmark whiskey, apple cider vinegar and agave nectar.
The staff all have a favorite cocktail, with staff member Rachel Orr's being the Coconut Sap, a combination of Cruzan rum, coconut vinegar and pineapple juice.
The one trend between the cocktails is that they either have a syrup and vinegar combination or a syrup and citrus combination, and it often creates a balance explaining why Orr loves the Coconut Sap.
Schiedel and Rilo also re-evaluate their menu two to three times a year, looking at ways to make the menu more efficient, but the overall goal is to ensure that two visits to the bar a year apart can feel the same, providing a timeless sense of comfort.
Perhaps the most standout quality for The Burrowing Owl is that the bar only closes one day a year, remaining open through every holiday but Memorial Day. The restaurant is one of few that hosted free buffets on Thanksgiving and Christmas last year.