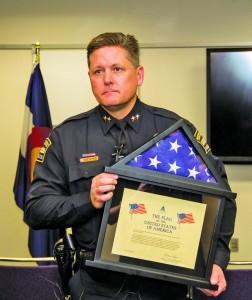 Feb. 1, 2016
Austin Chasse
[email protected]
On Jan. 29, an American flag that was flown at the U.S. Capitol building in honor of UCCS Police Officer Garrett Swasey was presented to Public Safety by the fraternity Sigma Alpha Epsilon.
Travis Tafoya, the current Sigma Alpha Epsilon president, and Aaron Novy, who was the first president of Sigma Alpha Epsilon at UCCS, came up with the idea and represented their fraternity in the ceremony.
"We really wanted to do something unique," Tafoya said. "There are so many groups on campus that were raising money and that need was already met by the community."
"It was the right thing to do," Novy said. "I've seen many flag presentations given for different occasions, and I figured that this was an appropriate one."
Novy goes to graduate school in Washington D.C., and coordinated with Congressman Doug Lamborn, who attended the event. The flag was flown under Lamborn's name at the Capitol.
"What happened to Officer Swasey was tragic, but his example serves as a great inspiration of bravery and heroism," Lamborn said. "This is just one small way we can remember his memory."