AJ Blevins
UCCS Volleyball took on CSU Pueblo in an intense back and forth game that came down to the last second for a UCCS loss on Oct. 5.
CSUP came to UCCS with an 11-4 record. The Thunderwolves have been one of the more successful teams this season, only losing one game at home and one game away.
The game started out with UCCS taking complete control of the first two sets and leaving the Thunderwolves with no room for error. In the first two sets combined, the Mountain Lions hit .324, had 29 kills and held the Thunderwolves to only 14 kills and a -.028 attack percentage. 
Senior Maren Burkhart led this big push to give the Mountain Lions a comfortable lead out of the gate. Burkhart dominated the first two sets, putting up eight kills on 15 attempts without an attack error. 
     Both teams would continue to battle back and forth as the Thunderwolves began to give UCCS some competition. The Thunderwolves gave a push in the end of the third set to go on a 6-1 run, in order to finally slow down the Mountain Lions and take the third set.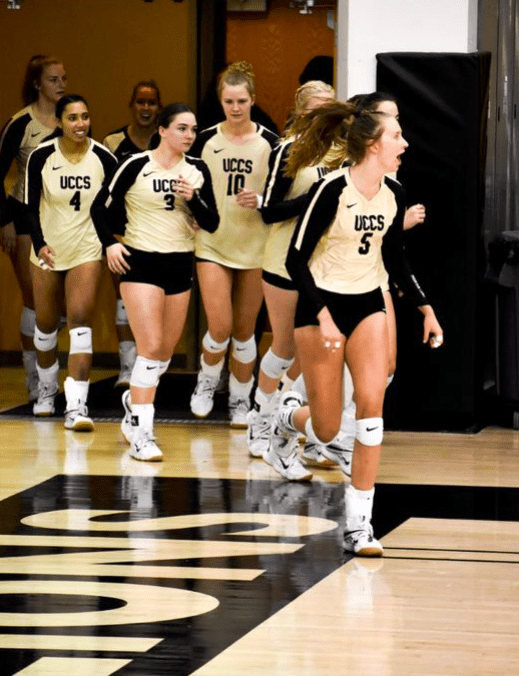 CSUP took that momentum into the fourth set, throwing UCCS out of their groove. They held UCCS to only seven kills while putting up 16 kills of their own and winning the fourth set to take the game to five. 
During the fifth set, both teams came in ready to get the win. There were four lead changes and nine scoring ties as the intensity rose. In the end though, the Thunderwolves came back to take the 3-2 win over the Mountain Lions. 
UCCS then moved to face Regis and attempted to get a bounce-back win on Oct. 8, but Regis was ready for UCCS. They would score the first three points of the night, and never trail in the opening set to easily take it 25-19. 
The Mountain Lions were not ready to go away just yet, though, as redshirt junior Hannah Ammerman recorded back-to-back kills to give UCCS a 2-0 lead. Regis quickly responded, scoring the next four points and holding the lead for the remainder of the set.
UCCS again came out fast in the third set. Their attempt to take a 5-1 lead was led by Ammerman, who put up two more kills on three errors by Regis. The Rangers went on a 10-0 run and took an 11-5 lead which would inevitably lead to them winning the third set and the game. 
     UCCS will now move to 4-11 on the season and prepare to face off against Western Colorado on Friday, Oct. 15.