September 19, 2016
Audrey Jensen
     Sometimes there is no way to control what happens to you in life, you have to roll with the punches.
     The UCCS women's volleyball team knows that they can't anticipate their opponent's play before every game, so they make sure they're first prepared on their side of the court.
     In their first two conference games of the season, the women's team were defeated by Chadron State College 1-3, but ended with a win for their white out game against Regis University 3-1.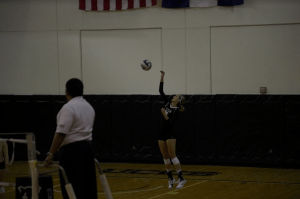 Overall, the team has six wins and four losses. Their conference games are now 1-1.
     After several wins and a loss against Florida Southern College (0-3) in their pre-conference game, sophomore outside hitter and criminal justice major Alyssa Brinton hopes the team will keep up their wins in the upcoming weeks.
     "I think it's just keeping up consistency that we have been in past games, we have been working really well as a team, and I think all the little things are finally coming together," Brinton said.
     Going into a game against teams like Florida Southern or Chadron, Brinton said it's difficult to anticipate how a team will do.
     "It's kind of hard to (prepare) when we don't know what we're expecting for a game. The biggest thing is adapting in the middle of the game to what we're seeing on the other side."
     The team has practiced focusing on their side of the court this season, making sure that they are in control of the ball, according to head volleyball coach Chrissy Elder.
     "We've got a pretty good team, as long as they're handling the ball well, the best team will usually win," Elder said.
     Since last season, Elder said the girls have moved out of a defensive mindset into more of an offensive role.
     "Being an offensive team just shows were being more aggressive and are more comfortable in what we're doing. It also means our ball control is good as well."
     Explaining what happened in their losses in the pre-conference games, Brinton believes the team gets too comfortable on the court as the game progresses.
     "I think it's going to be a matter of keeping our focus and finishing off teams until the very end, not letting up a little on the gas pedal. Making sure we focus until the very last point of the game," Brinton said.
     Based on their sets against Florida Southern, Elder believes blocking is what the team needs to focus on, but having a good mix of players on the court will help the team in future games.
     "We have some younger girls that are still trying to get their feet under them, they're doing a good job, (blocking is) probably the hardest skill to learn. It's refreshing that we're to the hardest skill at this point, but it's something that we need to get better at," Elder said.
     Although there are some improvements Brinton and Elder hope to see, they believe it's going to be a great season as a result of the team's work and the fans.
     "Everyone knows what needs to be done and what's expected of them. We'll going to be really prepared for the early games and not just going through the season," said Brinton.
     The women's volleyball team's will compete away against Fort Lewis on Sept. 23, Adams State on Sept. 24 and home at Gallogly against New Mexico Highlands University on Sept. 30.