Jan. 25, 2016
Alexander Nedd
[email protected]
While students showed up for their new classes last week, the same could not be said for the Winter Games, an event sponsored by the Office of Student Activities.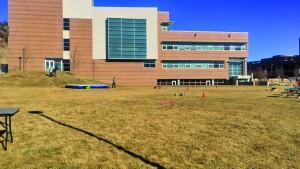 The event, scheduled on the West Lawn on Jan. 21 from noon to 3 p.m., was to feature competitions such as a snow shoe race and igloo building among students looking to add fun to the start of the new semester.
What followed was an empty field under chilly conditions with little interests from students passing by.
"With new events come challenges," said Stephen Cucchiara, the assistant director for the Office of Student Activities. "We have a population that is very used to traditional events so when you try to launch a brand new event and not everybody knows about it, that's why attendance is typically lower."
Cucchiara said the event won't be rescheduled but plans to have an internal assessment to make sure attendance is up in the future.
"It's a team evaluative process," Cucchiara said. "Any program that is held by OSA we evaluate it on a variety of different levels: attendance, execution, the cost of the event are just three examples."
Despite the lack of attendance for the Winter Games, Cucchiara said other events received a positive welcome.
"All of our (other) winter welcome events have received high attendance, from what we heard from students it wasn't a factor of marketing, it was just student interest."
Cucchiara encourages students to share their ideas for future events on campus.
"(OSA) is always open to new ideas, we're interested in hearing from students on how they felt about the event," he said. "For students who knew about the event but didn't decide to go, we want to hear why as well."