Colorado Springs is home to a variety of bars and restaurants, including hidden treasures that are easy to miss. Located on S. Cascade Avenue is a small diner which takes the appearance of a quaint country home. Shuga's Restaurant offers a dining experience with a cozy atmosphere both indoors and outdoors. Owner Alexius Weston's culinary spread takes inspiration from all around the globe.
The interior of the restaurant features aesthetic origami paper cranes which are strung up in a manner that they appear to be flying just below the ceiling, along with light fixtures that give off a romantic and intimate effect. Weston purchased the restaurant bare, so each decorative element, such as the warm-tone paintings, was thoughtfully placed to create a retro yet comforting atmosphere.
The outdoor tables are no less enchanting, with soft string lights creating the illusion of stars. Because of the spacing, being seated outdoors is a less noisy experience.
Patrons will appreciate Shuga's diverse, rotating menu which contains variations of cocktails, coffees, soups, sandwiches and snack boards. This assembly does not overwhelm with too many choices but has something for everyone, whether they lean toward sweeter plates or savory dishes. At the moment, the restaurant is featuring more hearty plates for the winter season.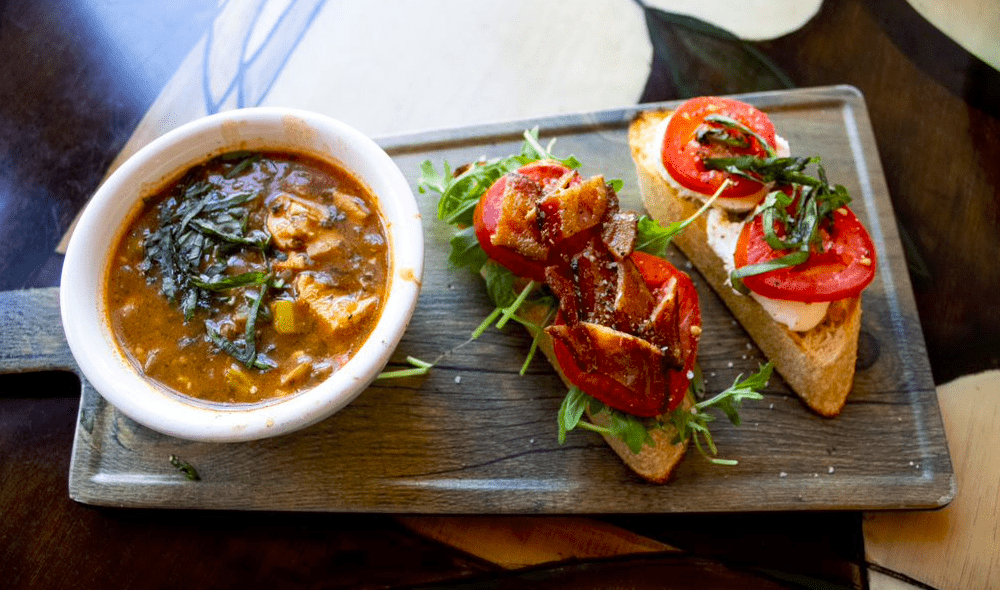 One of the restaurant's popular headliners is the spicy Brazilian coconut shrimp soup, which comes in at $5 a cup and $10 per bowl. This dish contains shrimp, jalapeño, ginger, peanut, coconut milk, lime, cilantro and black sesame. However, customers may opt to "Add the Twist," an extra menu option that includes ramen noodles, chicken, mushrooms and roasted red peppers for an additional $2 to $4.
Another fan favorite is the almond butter cake which can be found on the "Shuga's Favorite Café Tray" or in the sweets section for $5 a piece. The sweet cake is a customer favorite, as it often earns many compliments in a day, according to the staff.
For fans of a good charcuterie board, the "Such a Snackboard" offers assorted cured meats and cheeses, salted radish, cumin-spiked cashews, seasonal fresh fruit, Castelvetrano olive, apricot-basil compote and crostini to enhance a person's enjoyment of different textures and flavors. Pairing the board with any of their wines or cocktails may be a good idea for patrons over the age of 21.
A safe and tasty alcoholic option is their "Adult Juice Box" which consists of vodka, white grape juice, white wine and citrus. For those who have less of a sweet tooth for their wine, the Stella Artois Lager is a crisp and bitter drink that is balanced with a malt sweetness.
For those looking for a cozy spot to visit with friends, or an idyllic date spot, Shuga's is open every day, with varying hours during the week. For more information on dining options and their hours of operation, visit their website or Facebook.