7 May 2019
Cambrea Hall
[Editor's note: Editors Travis Boren, Taylor Burnfield and Abby Jadali are members of the riverrun staff.]

The UCCS literary and arts journal, "riverrun," has been an avenue through which student artists and writers have been able to express their voices for almost 50 years. The journal, published each spring, is made possible through student submissions and students who design, edit and publicize the journal.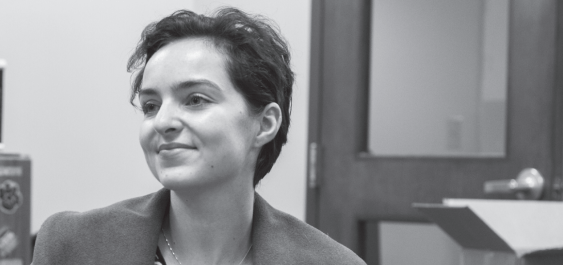 This year's edition of "riverrun" will be showcased at a reception on May 10 in celebration of the entries and editors.
Senior and English rhetoric and writing major, Shannon Garvin, was the editor-in- chief for riverrun for the 46th volume.
According to Garvin, "riverrun" is the student literary and arts journal, which is entirely composed of student work. Each year, the journal is different because the type of entries and editors are constantly changing.
The journal is designed in the riverrun Literary and Arts Journal course (ENGL 3170). This year's class had 22 students enrolled.
"The entire class is a body of student editors, but we're broken into leadership roles. I have an assistant editor and then we have a design editor. We break into smaller groups from there. We are organized into a kind of leadership hierarchy," explained Garvin.
riverrun receives submissions year-round through their email, [email protected], but do not begin the editing, design and publication process until the spring semester.
"The submissions we receive beginning in the fall semester will be published in the following calendar year. No one really mans that email until the spring when our session begins," said Garvin.
"It is the role of editor- in-chief to essentially be in charge of that email. That is 100 percent of correspondence that happens between the group riverrun and the students who are submitting."
The riverrun submissions vary year to year, depending on the awareness raised, but Garvin estimated that on average, they receive 80-100 individual pieces each year.
Garvin categorizes each piece into the four genres, fiction, nonfiction, poetry and visual arts and then passes them on to the selection committees led by genre managers.
"It is done through a double- blind process. When we break up into teams, I'm not a part of the selection process. I'm the one that gets the submission and we want to keep it completely unbiased," said Garvin. "Within the selection committee groups, they develop a set of criteria that's important to them that's based on some of the academic work we do in the class."
The submission deadline is around the first week of February.
The class learns to differentiate different aspects of literature and art that are important. Readability and creative thinking are important factors.
Kirsten Bartholomew Ortega instructs the class and serves as the faculty advisor.
Garvin also addressed the controversy in the recent Student Government Association (SGA) senate meetings. riverrun originally requested $8,250, but a majority of the senators voted to cut riverrun's proposal, then restored it in the next meeting.
In order to secure funding for next year's 300 copies of riverrun, they need at least $6,000.
"I had gone to the BAC meeting and provided them with our original budget proposal. I got positive responses and feedback from that committee and it did not seem that riverrun had any issues being funded through SGA. I left that meeting in February with a positive experience," said Garvin.
At the April 18 Senate meeting, riverrun was met with skepticism. The senators were in disagreement on whether "riverrun" should receive funding.
"We were alerted immediately after the conclusion of that meeting of the conversation that had gone on and the intent of the Senate to defund or minimize funding for "riverrun," said Garvin.
According to Garvin, riverrun immediately did background work and sought out leadership to get additional information to respond at the April 25 meeting.
"riverrun is a unique program," said Garvin. "There is no one else who will fund "riverrun."
The hearing from Garvin and one of the social media editors, Karina Manta, at the April 25 meeting, the senators decided to restore riverrun's funding back to its original proposal. The decision was finalized when they approved the entire budget.
"I think that the most surprising thing that people will see this year is the vast types of visual arts," said Garvin, giving a sneak peek into what viewers can expect in this year's journal.
Recently, riverrun also created a website using a $250 budget. Their goals in the creation of the website are to get more electronic submissions, have a digital archive of previous year's journal and to post more visual and auditory content.
"It doesn't have a ton of content yet since we were limited in budget. We decided to build it from scratch in a way that future editing classes can add to it in any way they want to. The website is really a platform for the future," said Garvin. "While the content is limited, the potential is absolutely there."
According to UCCS' riverrun website, the first group of students decided to name the journal "riverrun" in honor of the first word in James Joyce's "Finnegans Wake."
The "riverrun" reception will take place on May 10 from 5-7 p.m. in University Center 303.
"We are actively pursuing participation. Everyone is invited. Anyone who is interested in either the production of "riverrun" or contributing to it with their art or writing is encouraged to reach out," said Garvin.