November 7, 2017
Hannah Harvey
Freshman Zack Schlagel is remembered as a thoughtful, funny and caring friend.
"He was my first friend here, and he was really important to me," said Jacquie Leindecker, a freshman psychology and criminal justice major who was a friend of Schlagel's.
Freshman business administration major David Trevizo, one of Schlagel's roommates, remembers Zack as being friendly and accepting.
"He just made friends, and he was just a nice guy," said Trevizo. "I want people to remember him for how funny he was; he instantly made them laugh."
On Oct. 29, 19-year-old Schlagel was killed in a hit and run on Austin Bluffs and Stanton Road.
At 12:23 a.m., Schlagel and two other pedestrians, including Trevizo and David Kinnear, another student and roommate of Schlagel's, were crossing the street legally in the crosswalk when a driver ran through a red light.
The driver, Vincent Fernando Garcia, had been drinking, according to The Gazette. Garcia was traveling 70 mph on Austin Bluffs, a 40 mph zone, at the time of the accident.
"We were all crossing the crosswalk, and David took off first. Zack was in the middle, and I was last. A truck came flying up," said Trevizo.
Trevizo suffered minor injuries and Kinnear was not injured. Schlagel died as a result of multiple blunt force injuries, per the CSPD.
"Once we saw Zack lying on the ground, I called 911," Trevizo said.
Schlagel, Kinnear and Trevizo attended a few costume parties on Oct. 28, the night prior to the early-morning accident, and decided to return to campus when the fatality occurred, said Trevizo.
Leindecker said that she talked with Schlagel before he went to the parties.
"He messaged me and said that he was going to a party," she said. "I saw them that night when I was leaving the [Roaring Fork] with my roommate, and I said, 'oh I'm going to do this with my roommate, but let me know how it is.'"
Leindecker heard from a coworker that Schlagel had died. After the news, she wrote down all of her memories.
Schlagel was a mechanical engineering major that lived in Alpine Village on campus.
Schlagel graduated from Poudre High School in Fort Collins, Colorado this year. At Pourde, Schlagel played baseball.
"He was just really happy. His parents thanked me for making his transition to college so easy. He didn't know anyone, and he made it easy for me as well," said Trevizo.
He enjoyed making music, playing sports, hanging out with friends and enjoying the outdoors, according to his obituary.
"Happy is probably the biggest one. He was always laughing," Trevizo said. Schlagel is survied by his parents, his brother, his grandfather and several members of his extended family.
A memorial service was held to commemorate Schlagel on Nov. 3 at Timberline Church in Fort Collins, Colorado.
Leindecker, who also lives on campus, met Schlagel during the first days she was on campus. The two played frisbee together in a group of friends that included Schlagel's roommates.
"He was a goofy guy, and he can get you to laugh," said Leindecker. Leindecker remembers Schlagel's kindness from the first time they played frisbee together.
"He texted me that night and said his roommates were talking about cool I was. It was really nice of him to say," she said. "You don't have to tell anyone things like that, but he did."
Freshman mechanical engineering major Sanjeev Dahal was another one of Schlagel's roommates. Dahal also remembers Schlagel's sense of humor.
"Zack had a really extroverted personality when you got to know him," said Dahal.
"The first month or the second or third week [of classes], he said that he didn't expect to be that close with us so quickly, and he really liked that. I'm sure everyone else did too."
Dahal remembers an ice cream competition that Schlagel and Trevizo conducted as a particularly funny memory.
"We had the biggest ice cream cone contest for our dorm mates. Zack's ice cream turned 90 degrees and fell," he said.
Chancellor Venkat Reddy said that UCCS was working with Schlagel's family and roommates in an Oct. 30 statement.
"We are committed to the safety of our students. Please know that UCCS works closely with the City of Colorado Springs," said Reddy in the statement.
Trevizo and Dahal said that the Dean of Students, Steve Linhart, has offered support, alongside other campus resources.
Schlagel's friends wish for him to be remembered as a happy, caring friend. "UCCS lost one of the really great people," said Dahal.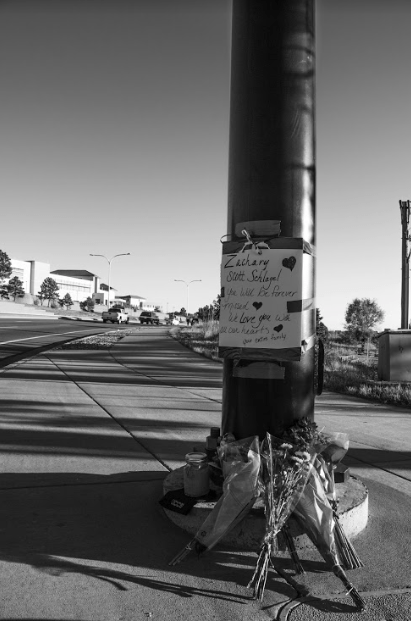 _____________
     Counseling services are available to students, faculty and staff who may be impacted by this incident at the Wellness Center. For more information, contact the center at 255-4444.