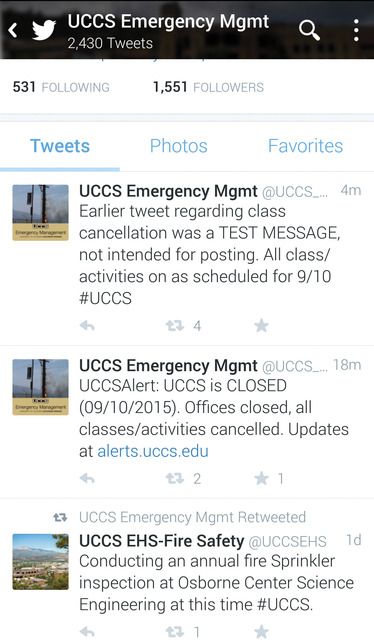 Sept. 21, 2015
Evan Musick
[email protected]
The UCCS alert system issued a warning that campus was to be closed on Sept. 10.
Within the hour, tweets and emails from the UCCS alert system and police operations notified students the message was only a test, and had been incorrectly sent out to students.
Tim Stoecklein, program director of Emergency Management, explained the test had been part of a monthly routine aimed at keeping those who issue the alerts "sharp, and up to date with the latest releases of the software."
In the drill, the dispatcher is meant to select a series of channels for the alert to travel through.
"In this instance, the dispatcher did send it to me via text and email, but he did not de-select the other channels, being the website and social media accounts," Stoecklein said.
This resulted in the message being displayed on UCCS' website and Twitter feed.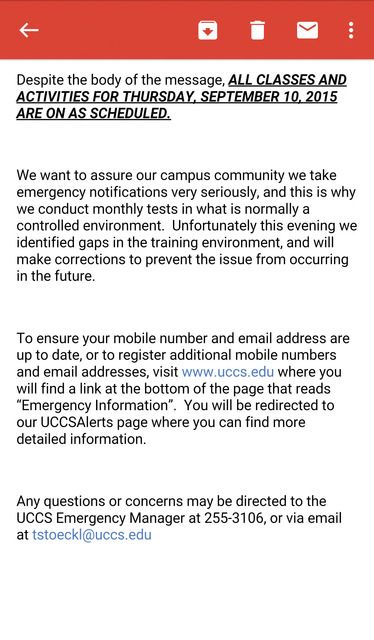 Different emergencies receive different notification systems. In the case of a less serious situation, a "timely warning," would be sent out via email and social media.
In the case of a true emergency, such as an evacuation or active shooter, the UCCS alert system would be used. This includes text messages to student's phones.
"If you need to know now, and we want to push it in as many ways as we can to make sure you get the message, that's when we use UCCS alerts, versus an email," Stoecklein said.
"We want to save the text alerts for that 'this is no joke, it's happening right now, you need to take action.'"
The channels that are included in the alert system include emails, text messages, reverse 911 calls, UCCS' website and social media.
Both Brian McPike, executive director of Public Safety, and Stoecklein said there are steps being taken to mitigate errors in the future.
After-action reviews between Tom Hutton, executive director of University Communications, Kirk Moore, director of Computing Services, McPike and the dispatchers have already taken place. Switching from a live test to more of a demonstration may be in the works, explained Stoecklein.
"We're getting a plan in place to make sure that 'never escapes into the wild again,' so to speak," Stoecklein said.
"It's good when something like this happens, in a sense, because it tests our protocols, and it shows us weaknesses and areas for improvement," said McPike.
McPike added he is proud of the emergency staff and feels extremely confident in pushing out information that is needed in case of an emergency.