February 21, 2017
Daryn Vlad
     According to Disability Services, around 900 students at UCCS are currently registered with disabilities.
     The Assistive Technology Lab, located on the second floor of the library in EPC238, provides resources for students who have disabilities including dyslexia, poor hearing and poor vision.
     On Feb. 14, the lab hosted a grand opening event to showcase the improved space.
     The lab expanded and updated their technology to further meet the needs of students with disabilities who may need additional help to reach their academic goals.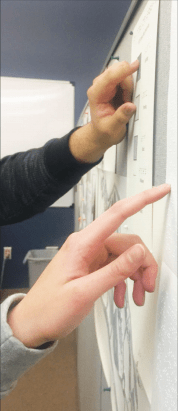 The lab is divided into four stations labeled See, Speak, Touch and Read.
     Among multiple technologies introduced to assist students with poor vision or blindness is a voice technology software called Dragon: Naturally Speaking. To write an essay or copy notes, students speak into a headset after setting up a user profile, and the speech is transcribed into text.
     According to Justin McConnell, a student employee, the software can transcribe punctuation, erase text and put Dragon to sleep with voice commands.
     "The user profile becomes accustomed to your voice and gets better over time," said McConnell. It can adjust to your speaking patterns, including accents, lisps and stutters.
     Another technology that helps with vision, called DaVinci, enlarges paper text onto a computer screen through a camera, according to Carlos Garcia.
     Students who are dyslexic or blind can also use ZoomText, a technology that reads text aloud.
     "You just snap a picture and it will instantly recognize the text and start reading it out loud to you," Garcia said.
     "You can also customize it, adjust the magnification and change the background color if it is too harsh on your eyes."
     Students can carry Zoomtext, which is compact, in their backpacks and use it whenever they need it.
     "Other technology similar to this is really bulky and expensive. That is one of the advantages of this one," Garcia said.
     The lab also has a highspeed printer that translates textbooks to tactile versions of the pages for students with low vision.
     In the lab, students can also find a full map of the campus in braille, with a key next to it to differentiate the textures.
     According to McConnell, the lab offers students a nice, quiet space where students can focus on their studies.
     Students who want to training for the new technology can call the assistive technology specialist, Leyna Bencomo at 255-4202 or email [email protected].