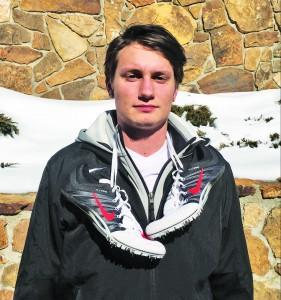 Feb. 8, 2016
Halle Thornton
[email protected]
There are 26 runners on the men's track and field team. But only one competes in hurdles.
Nick Lemley, a sophomore geography major with a minor in chemistry, participates in the 400-meter hurdles, in
addition to running the open 400 and the 4×400 relay.
Despite his singularity, Lemley said head coach Brandon Masters motivates him to be the best.
"Even though we have not done too much outdoor hurdles work due to the time of season and the cold weather, I can see that he truly knows how to make me and any new hurdler recruits better at our event," said Lemley.
Lemley added that Masters creates internal competition with other sprinters in the program.
"(Masters) puts together workouts to allow my teammate, Alicia Lawrence, to work with me as much as possible."
Lemley has been a hurdler since he started running track in seventh grade. He began running as a way to make new friends and because it helped him stay in shape for the other sports he played.
"I have developed fundamentals and techniques. However, I know coach Masters will finely tune what I already know and teach me everything I do not know along the way," he said.
UCCS became Lemley's top choice for college when he stepped on the campus for a tour.
"Out of all the schools I toured in Colorado, New Mexico and Arizona, UCCS was unquestionably my personal favorite. I was also informed that the track and field program was expanding and becoming a powerhouse, which inevitably peaked my interest and help me decide quickly."
When not on the track or in class, Lemley enjoys skiing. After graduation, he hopes to continue his higher education.
"I plan on either continuing my education through graduate school or becoming a (geographic information system) specialist with the government," he said.
Lemley enjoys being part of a team and the sport of track and field.
"Loving the sport makes me want to work harder to get better and gives me great motivation to push myself during practice and events," he said.
"It's time now to grow as a team here at UCCS so we can achieve everything that is expected of us