Feb. 1, 2016
Kyle Guthrie
[email protected]
College students have more coffee running through their veins than blood. They depend on a cup of joe to get them through class, work and to power through late night study sessions.
But before 8 a.m. class, students have to decide where to buy the best coffee near campus.
Six staff members at The Scribe participated in a blind taste test from four popular coffee shops. Each person scored the coffee on a scale from one (undrinkable) to 10 (ambrosial). As you'll see, The Scribe has some picky coffee drinkers.
#1 Kangaroo Coffee
Cumulative Score – 32/60
Kangaroo Coffee uses all organic ingredients, has military discounts and offers a punch card.
The caramel mocha was the winner of the contest. The drink tasted sweet and silky on the palette and is so rich it tastes like a milkshake.
This was also the second cheapest drink of the contenders. A 16-ounce cup was $3.75.
The closest of Kangaroo Coffee's three Colorado Springs locations is 434 W. Fillmore St., about 10 minutes away from campus.
#2 University Center Coffee Shop
Cumulative Score – 31/60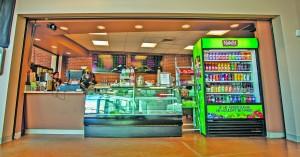 Coming in second by one point is University Center's Coffee Shop, outside of the Kraemer Family Library.
While their concoction was more expensive than Kangaroo Coffee's ($4.10), it was just as tasty, with the added convenience of being on campus. But at $4.10 for a 16-ounce cup, it doesn't seem like college students are their largest targeted consumer.
Their coffee is tasty, but students should know they close early on Fridays.
#3 Dutch Bros. Coffee
Cumulative Score-21/60
Dutch Bros. Coffee, a distant third, scored low among staff. While the coffee didn't taste bad, it was weak and tasteless.
It didn't help that they messed up the order, but the staff was friendly, and it was still better than a lot of coffee shops.
Their 16-ounce iced coffee was the cheapest of all the coffees we tasted at just $3.50.
They also have the largest selection of items on their menu. Everything from energy drinks to smoothies and teas can be purchased there, giving students a variety of beverages to choose from.
The closest Dutch Bros. is located on 1440 N. Circle Dr., is open until 10 p.m. and offers a punch card.
#4 Starbucks Coffee
Cumulative Score – 14/60
It's hard to throw a stone without hitting a Starbucks, but placing last is the largest coffee chain of them all.
After paying $5.60 for a 16-ounce iced caramel mocha, I was handed a cup of coffee that was already separating by a barista with an unpleasant demeanor.
The coffee tasted bland and flavorless, with a subtly bitter flavor underneath that tasted like battery acid. But the sheer convenience of Starbucks locations makes up for the inferior taste.
The store also offers a variety of meals and free Wi-Fi for students wanting to take it easy and knock out an essay or two. The closest Starbucks is in the University Village Shopping Center on Nevada Avenue.