UCCS campus shuttles are running four buses during regular hours, which is different from years prior to COVID-19.
The Parking and Transportation Services office hopes to hire more shuttle drivers but has been struggling due to a nationwide shortage of available persons with a commercial driver's license, according to Executive Director of Parking and Transportation Jim Spice.
In previous years, there was a shuttle schedule with the times when buses would be leaving each stop. Having a schedule is not possible now because there is no way to know if bus drivers will be available.
Spice said, "For the first time ever, we are now paying for people to get their CDL, commercial driver's license, because we can't find, or we're having a very difficult time finding qualified drivers that already have their CDL.
So, we just paid for three people to go to a training to get their CDL. And we're really down a lot of drivers, just like you probably have seen it before, the school districts around the area and really, it's a problem throughout the whole entire nation."
Spice addressed the lack of shuttle schedules, saying, "Because we're struggling trying to find drivers, we're short staffed and because we're short staffed, if we put out a schedule and someone calls in sick, we can't stick to that schedule anyway.
And so, we found it easier just to simply say, it's about every 15 to 30 minutes, rather than promising a specific time, and then people get upset because we can't deliver on that time," Spice said.
Transportation Field Manager James Rehkopf explained that Parking and Transportation did put out a schedule for buses leaving University Hall and buses leaving Lot 580. Buses should leave these two stops during regular hours every 10 minutes. However, spacing the buses apart remains a challenge due to pedestrians, traffic and other factors.
     "If we promised every 15 minutes [with] the traffic or there's an accident or whatever, it throws that off, and the two buses are right next to each other, then we don't have that right 15 minutes spacing so it might be a little bit longer for the next bus. It's really hard to keep them exactly spaced 10 or 15 minutes apart," Spice said.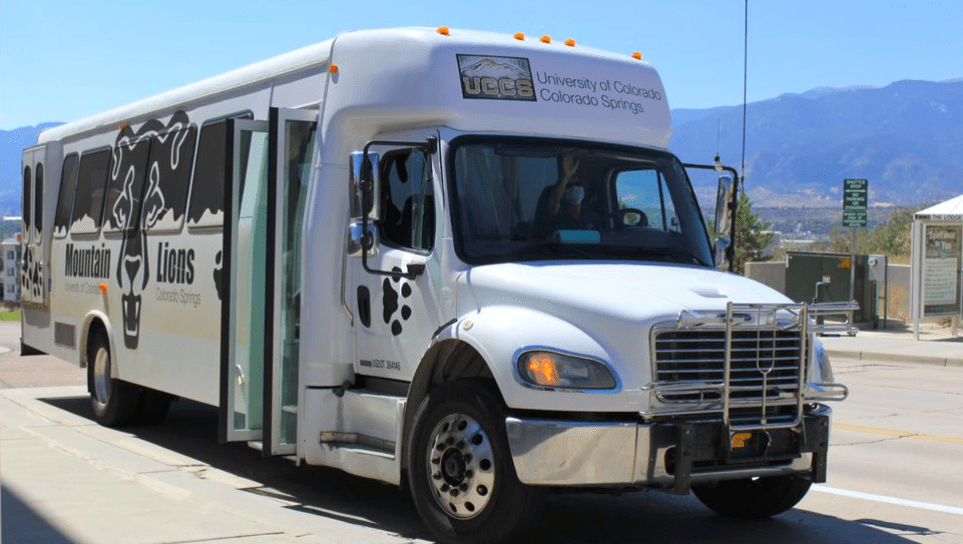 "The other reason that we reduce that from six buses down to four is because of ridership. So, our ridership has steadily declined over the last several years, where we're just not seeing the number of passengers that we used to see."
Rehkopf said, "I actually pulled some numbers. The month of August actually covers usually a week or two of the summer. But just to give some numbers in 2018, we moved in the month of August, 28,694 students. In 2019, it dropped to 12,747. In 2020, it was an impressive 12,021. That was COVID-19. And then this year, we're up to 11,044."
Spice also explained that as ridership increases, then more buses can potentially be added to address the higher demand. However, adding buses remains a problem until more drivers can get certified.
Rehkopf said, "We were actually going to add a fifth bus during part of the day, this semester, but we're so short staffed, that the person who's going to drive it is actually filling in for somebody else who's out right now. So, we did have plans to split one of the routes, that's the heaviest load with another bus to get another one out there."
Spice has also advertised employment for shuttle drivers on SEANS and made it clear that it is not a student employment job.
Rehkopf also explained that hiring certified drivers is so difficult in some states that the National Guard has even been called in to help where necessary. In other places, sign-on bonuses are being used to entice drivers.
Spice added, "I think we're going to continue struggling with finding drivers. So, I think that will continue for a long time nationwide. I think we just have to stay flexible and kind of watch demand. I can't foresee going less than four buses at any time soon, but I can see foresee, adding more if we need to add more."
Spice encourages students to aid in finding drivers. "If you know anybody that's interested in a job, we are now offering training to get your commercial driver's license. All you have to have is have a Colorado driver's license or regular driver driver's license and be 18 or over, with a clean driving record," he said.