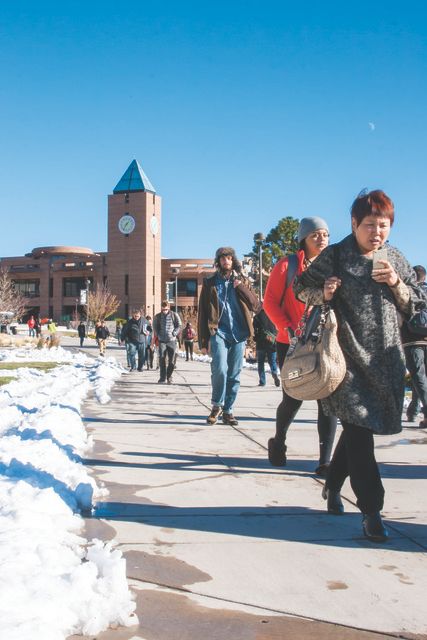 Nov. 23-Dec. 6, 2015
Hannah Harvey
[email protected]
When the first snow of the season falls, it's easy to curl up in a self-made blanket burrito and commit to a 12-hour Netflix marathon to avoid going outside.
The departments of Public Safety and Facilities Services do their part every winter to ensure the campus is prepared for the weather.
Preparation includes a multitude of events to clear snow and ice off the main campus routes, preparing food and shelter for students and sending out alerts about weather conditions.
"Ultimately, the goal is to keep campus open for business as usual," said Tim Stoecklein, program director for Emergency Management.
In the event that campus closes, such as on Nov. 17, Facilities Services has the primary role of snow and ice removal on campus.
Their team goes into operation at 4 a.m. to make sure campus routes are safe for students to walk and drive on.
There are between 11 and 24 events in a season that Facilities Services monitors.
Snow or ice mitigation would be considered an event. 60 percent of events are between one and four inches of snow, according to Rob Dougherty, executive director of the Physical Plant at Facilities Services.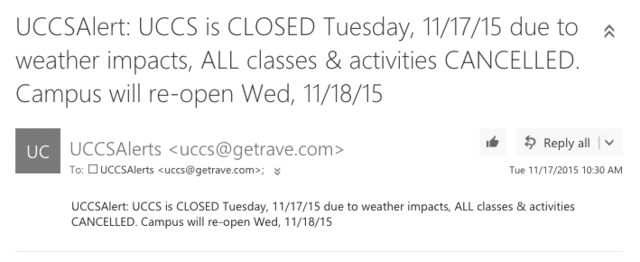 In addition to Facilities Services, Food and Dining services must be operating as well. There are approximately 1,500 students living in the residence halls, so food must be provided for them regardless of the weather conditions.
"There is enough food for two, three, even four days out and certainly if they anticipate a big storm, for example the snow storm we had back in February, they have plans in place that they can bump up their inventory to ensure that they're ready," said Stoecklein.
Snow storms like the one that occurred this past February can potentially carry a negative impact on campus. But, Dougherty said there have not been any significant damages because of storms.
"Snow and ice mitigation usually begins at 4:15 a.m. We will watch to see if any ice melt needs to be put down depending on the location," said Dougherty.
He added that a common issue is staircases being glazed over by ice, which Facilities Services watches closely.
The snow gradient for commuter students may vary depending on where a student lives.
The forecast may predict that UCCS will get one to two inches of snow, while Monument may get five to eight.
Because of this, students may worry about what would occur if they get stuck on campus and cannot safely return home.
"When it comes to evening classes or activities, we'll try to make a decision on a cancellation by 3 p.m. so that folks have time to get home, if possible," said Stoecklein.
"We don't want folks out on the road when conditions get bad," he said.
Emergency management also has plans in place in the event that they would have to shelter commuter students who are stuck on campus.
If a student is trapped on campus, residence halls and the Rec Center would be open for them to stay for the night. Food would also be provided via the dining halls.
"If we have to shelter 100- 200 commuters or visitors who got stuck on campus, we have locations identified on campus to make you as comfortable as possible, to get you some food, and give you a place to keep you warm and safe," Stoecklein said.