The UCCS College of Business' annual Career Networking Night will take place in person, Sept. 15, from 6-8 p.m. in Berger Hall, promising plenty of career opportunities, networking and food.
According to Marc Paquette, assistant director of the Career Development Center, there will be more than 50 organizations present at the networking event. This includes companies such as Amazon and Goldman Sachs, as well as the Air Force Space Command. More local organizations include the City of Colorado Springs, El Paso County Sheriff's Department and the Ent Credit Union.
"Students can expect to meet with company representatives who are looking for interns, part- or full-time employees, volunteers, and offering general career support and advice," Paquette said.
Paquette also explained that the event is designed to allow students to think about their career options, talk with recruiters or managers about expectations in their fields and find opportunities.
Paquette said, "Networking and thinking about a career or internship is a key component of one's transition during, and out of, college. Students who are assessing their professional goals will find this event to be full of opportunities to build relationships with employers and organizations.
     As an added benefit, we provide food!" Paquette said.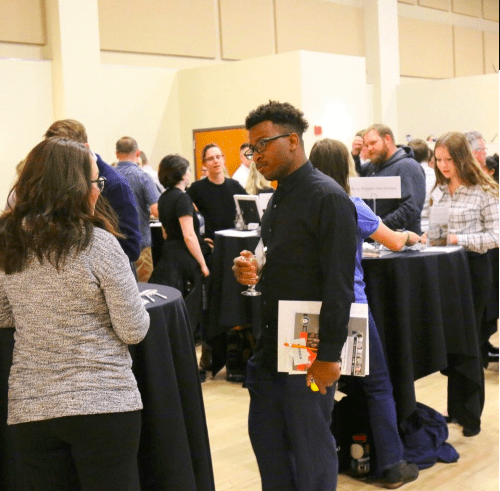 From freshmen to graduate students, there is something for everyone, according to Paquette. He further added that the event is more than just finding an internship or job.
He said, "It's about challenging oneself to explore possibilities, to learn how to network, and to overcome concerns about where to start looking or how to navigate the process. It helps build confidence, and students will hopefully walk away having made at least one connection with someone that could open many other pathways to opportunity."
Previous Career Networking Nights have been successful and presented students with many career directions and opportunities, according to Paquette.
He said, "In-person CNN's generally have students raving about the number of contacts they are able to make, with numerous internships and employment offers as a result."
He expects similar results for this event. Organizations, according to Paquette, are looking specifically for UCCS students to fill their open positions, including current positions and future opportunities.
This event will look a little different than past in-person events. Paquette said, "Networking in our current times does look and feel a bit different. We are all masked, and sometimes, it may be more difficult to see or interpret facial expressions."
He suggests always smiling, even while wearing a mask. He said, "Despite others not being able to see it — a smile radiates positive energy — and that is a key element when networking.
Paquette offered Handshake's page on the Career Networking Night as a way to see the full list of organizations taking part in the event.